Order Now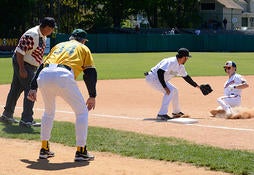 Get your tickets to see six Hall of Famers and 30 recent stars, May 28 at Doubleday Field.
Join
As the keepers of the Game's history, the Hall of Fame helps you relive your memories and celebrate baseball history.
Tickets for the Night at the Museum event are now SOLD OUT.
Through the foundations of BASE - diet and nutrition, exercise and fitness, character and fair play - the Hall of Fame provided a meaningful educational experience, both online and in the classroom. The BASE program incorporates lessons from Hall of Fame members who explain that achieving success in life leads to being a superior example to those around you.
At the conclusion of each BASE lesson, individuals of all ages are asked to take a pledge to live healthy and to live free of performance-enhancing substances. This national registry is housed in Cooperstown and provides an opportunity to individuals to view their pledge and name alongside the game's greatest heroes, at the National Baseball Hall of Fame and Museum.
The BASE program educates audiences about the short- and long-term dangers of PES use; provides guidance for developing healthy lifestyles and injury prevention; empowers students, parents and athletic administrators with the ability to identify potential PES use; and shares strategies to help individuals of all ages make informed decisions about their own health and make decisions that influence the health of others.
Friday, May 27
4-7 p.m. - Cooperstown Classic Clinic (SOLD OUT)
Saturday, May 28
9:00/9:15 a.m - BASE Race 10K and 5K
Noon - Home Run Derby
1 p.m. - Hall of Fame Classic Game
4 p.m. - Family Catch (SOLD OUT)
6 p.m. - Night at the Museum (SOLD OUT)