For country, for pride: Japan's Ichiro Suzuki Makes a Lasting Impact
Signed to a contract to play for Japan's Orix Blue Wave in 1991 – just after his 18th birthday – Ichiro played with the team for nine seasons (1992-2000), leading the Pacific League in batting seven times consecutively, earning three MVP awards and taking home seven consecutive Gold Gloves.
The left-handed-hitting right fielder signed as a free agent with the Seattle Mariners in November 2000. During his first five seasons in Major League Baseball, he was spectacular. As a 27-year-old rookie in 2001, he earned both American League Rookie of the Year and MVP honors. Ichiro has since amassed five consecutive 200-hit seasons, setting the major league record for hits in a season (262 in 2004, breaking George Sisler's 84-year-old record). His 924 hits in a four-year period are the most of any major league player in history, surpassing Bill Terry's mark of 918 that had stood since 1932.
"He's one of the best players in our game and is incredibly popular," said Hall of Famer George Brett. "He can hit, run, and play the outfield. He has a great arm, and he's a tremendous hitter. I love watching him play."
Ichiro has also been a frequent donor to the Museum's artifact collection and has been to Cooperstown twice, visiting after the 2001 and 2004 season.
The popular leadoff batter sat down with the Hall of Fame's Jeff Idelson for a short chat in the visiting clubhouse at Fenway Park, prior to an April game with the Red Sox.
Join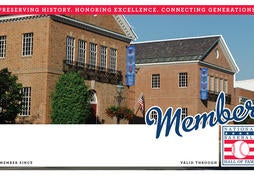 As the keepers of the Game's history, the Hall of Fame helps you relive your memories and celebrate baseball history.
Shop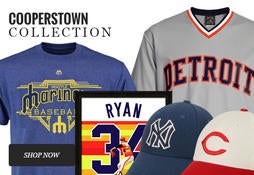 Represent the all-time greats and know your purchase plays a part in preserving baseball history.
Hall of Fame:
Growing up in Japan, were you familiar with any of the great American major league players?
Ichiro Suzuki:
Of course. I had learned of the great players like Babe Ruth. The great American players I was able to see were those who played in the Japan-America All-Star Games played after the season. I remember being impressed by Kirby Puckett.
HOF:
Who were your heroes, baseball or otherwise, as a child?
IS:
Growing up in Nagoya, I was a big fan of the Chunichi Dragons. All professional baseball players were heroes to me, especially anyone who played for the Chunichi Dragons, in the major or minor leagues. After I became a professional baseball player in Japan, Ken Griffey, Jr. became a hero. In fact, I bought a signed jersey of his for what is the equivalent of about $1,800 in Toyko, when I played for Orix. I was about 19 years old at the time.
IS:
There are many differences, such as the different time zones and the amount of travel that exists in the United States. It's amazing that there can be so many times zones within one country.
HOF:
How did you first hear about the Baseball Hall of Fame in Cooperstown?
IS:
I had always heard about the Hall of Fame in Cooperstown, but I had no idea where it was. Where I found out about it, I don't really know.
HOF:
After the first season with the Mariners in, you came to Cooperstown for a few days, the first of two visits you have made to the Hall of Fame. What were your impressions of the village and the Museum?
IS:
I was really amazed that there could be a village of just baseball. I was really moved that the village could maintain itself primarily through baseball. I really could feel how Americans took care of and felt about baseball through that experience.
HOF:
During your visit, you were able to swing a Joe Jackson bat, plus those of Babe Ruth and Ty Cobb. You also were able to see and hold gloves from our collection. Was there a special feeling in holding objects of such historic importance?
IS:
Just by looking at their numbers and statistics, it's hard to know what baseball was really like when they played. By holding their equipment – their bats and gloves – you can feel a lot. Especially through the gloves, you can tell the difference of baseball then and now.
HOF:
You have been very generous to the Hall of Fame, which in turn, has allowed more fans to become familiar with you and your place in history. How do you feel about having your game-used items in the Museum?
IS:
During my rookie year, I was able to beat "Shoeless Joe" Jackson's record for hits by a rookie. The Hall of Fame asked for the bat I used to break the record, which I did not send, because it was very special to me. (Ichiro did send a bat he used during the month of September). After the season, I came to Cooperstown and I was able to hold one of "Shoeless Joe" Jackson's bats. I began to realize that the Hall of Fame's request of me was a great honor. I'm sure there are instances when players might want to give something to the Hall of Fame, but the Museum might not want to accept it. After leaving Cooperstown, I began to regret that I had not given my bat to the Museum. So in 2004, when I broke George Sisler's mark for most hits in a season, I was very happy that this time I had the opportunity to give my bat to the Hall of Fame. I hope I can continue to be this kind of player and give things to the Hall of Fame when asked.
HOF:
What does Japan's victory in the World Baseball Classic mean to baseball fans?
IS:
The popularity of baseball in Japan has been declining, and kids have been losing opportunities and space to play baseball. Through the WBC, if kids begin to feel again that baseball is fun, I would be really happy. I think the world needed a tournament to determine who the best team in the world is. I hope this tournament will become the biggest baseball tournament in the world.
---
Jeff Idelson is the president of the National Baseball Hall of Fame and Museum