Calling the Shots: Jen Pawol Talks Umpiring
When Pawol and her family visited the Hall of Fame to donate the mask she has used her entire career and the cap she wore during her tryout at the Major League Baseball Umpire Camps program, she sat down with the museum's Assistant Curator, Gabrielle Augustine, to talk about the path that led her to be calling strikes behind home plate.
Join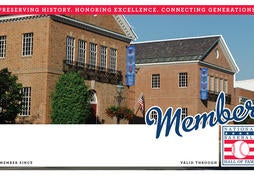 As the keepers of the Game's history, the Hall of Fame helps you relive your memories and celebrate baseball history.
Donate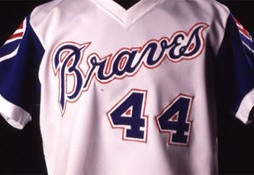 We need your help to preserve priceless treasures housed here in Cooperstown. Make a gift today to help ensure that fans around the world can have online access to the Museum collections and Library archive.
Hall of Fame
What drew you to baseball? When did you develop your passion for the game?
Jen Pawol
Very, very young. My parents would put the games on the television, like two and three years old and I was reminiscing with my dad and he said that when they would put on Sesame Street, that I would watch and then wander away after a while but if they would put on a baseball game, I was fixed in front of the television. My parents, when I was very, very young, would throw with me, my mom and my dad would swing wiffle ball, and I just was gravitated to it. Reggie Jackson was my favorite player, my dad used to take me on Saturdays or Sundays, on the weekend to get the paper, and it was funny, I would spend my allowance money on baseball cards, Reggie Bars, we got the Reggie Bars every weekend and we went to Little League, maybe 5-years-old I started, on Long Island and just loved baseball. I just gravitated towards it and became a catcher.
HOF
Do you remember your first major league game?
JP
Yeah, I was probably about nine, eight or nine, and we went to Shea Stadium, so the Mets were playing, there was my mom, my dad, and my grandfather went, and me, and it was a great sunny day. I was just fascinated by the grass… I remember coming up into our seats and finally seeing the stadium open up, when you get that first view of the grass and the field and the scoreboards and everything. I mean, I always remember that.
HOF
When did you start umpiring? At what point did you decide you wanted to make it a career? Where did that transition happen?
JP
Well, I was playing softball. I transitioned from baseball to softball and played all through college, played some women's fast pitch afterwards, after I graduated college, and then a lot of things were changing in the women's game because money was going into coaching. Women could get fulltime coaching jobs and make a lot of money. So, the pro leagues started up and things like that and I decided to transition away and start umpiring because I still loved the game, being on the field and being athletic (catching and stuff), but it wasn't the same like it was. Team rosters had depleted, so I thought, "geez, well umpiring. I'm always on the field and I'm actually going to get paid to do it, so this may be something I'll enjoy."
So I got involved in a local chapter about 11 years ago in Endicott, N.Y., and they offered baseball and softball instruction on how to umpire both games since they are different, very different actually. They look the same, but they're not. And then I just worked; I started umpiring baseball and softball for about four years. This was about 2006-2010; 2011 came around and I wanted to do umpiring full time. And I didn't really know what that meant, but I actually resigned from my teaching job. I gave two weeks' notice and I went to Florida.
I took a pop-up camper and went and I was down there for my first Spring Training, and the organization that I got involved with in Florida was the Florida Professional Officials Association (FPOA) in the Orlando area. They do like a million dollars of umpiring business a year and they said they could keep me working all year long. I did all the paperwork and things I needed to do, I said I had been umpiring, and they put right on the college softball field and within a year I was trying out for NCAA Division I and many, many opportunities as I continued to tryout and work Division I softball games. It just kept building. Then I came back home (I kept my house in Binghamton), about 2013 and I was in a number of the Division I conferences and could come back home. Like, I thought I had gotten what I went for. And then I was going to a number of baseball umpire clinics, like the weekend sort of clinics, then a major league umpire saw me.
When I left for Florida and quit the job, in my mind I was going to be a professional umpire, but I didn't think I would go to umpire school because I didn't think there would be a job there if I tried to compete for professional baseball. I thought it was this unwritten thing, like "women, this just isn't for them." But when, over the 10 years of doing all this baseball and softball umpiring and then coming back home, and then I was at a clinic in Georgia and major league umpire Ted Barrett saw me. He had seen me in a clinic here in New York State for high school baseball umpires so this was the second time he had seen me. He saw me for five days [at the Georgia clinic] working, no games, all drills, and he approached me and said, "would you like to become a professional umpire?" And I said I was already working Big Ten, I'm on TV, I work in the NPF [National Professional Fastpitch] umpiring, I mean this is as far as I could go, in my mind because of my gender. He said "no, I really think you should go to the tryout. It's free. And that's the other hat that I gave [the Hall of Fame]. So the hat is from Major League Baseball's umpiring program. It's free and you go and you bring your best stuff. I was on the field with his bosses, the major leagues' umpires' supervisors run that program. And then I earned a scholarship to umpire school! Something I never thought would be worth going towards. I didn't know if I'd ever get a fair shot and boy was I wrong. It was a total fair shake and I was hired, I earned a job in minor league baseball after graduating school. So that's kind of the journey that I was on.
HOF
How did the tryouts work?
JP
That's a great question because people are like, how do you do umpiring in professional baseball? It's an open door; you basically bring your gear and your uniform, like you would if you were a player, to the clinics, to the tryouts, and they're usually held in the summer, all over in major league stadiums. And then the supervisors are there and they run you through umpire drills, you know, plate mechanics for calling pitches and base work and there's a lot of running. You've got to be enthusiastic and willing to learn and willing to work and they can tell if you're not enthusiastic and if you're not willing to work, and you can't run, you stick out. So those three things are pretty important to be able to do. And then basically, you break for lunch, and then you go the rest of the afternoon.
The initial round in the summer, they look for about thirty prospects to bring back. They pay you to come back in December, to Fort Myers, Fla., for five days where they pay for everything. And they basically just drill you, they teach, and it's the same thing for five days. And then at the end of it, they either invite you to accept a scholarship because they think you could eventually become a major league umpire or you might not get invited. But they give eight out every year. You can always pay to go to umpire school too, but it's just a good program to know about since it's free, and you could be picked.
That's kind of how it works. It's mostly on you to do everything. So if you come up with your strike and someone says "no, I want it higher," you have to be able to say okay and fix it right then and there. So you have to be able to change on the fly.
HOF
Do you remember what your reaction was when you learned the Hall of Fame asked for your mask?
JP
I pretty much lost all feeling in my body. I received a phone call from Tim Brunswick and Dusty Dillinger who are on staff with minor league baseball and they called me. It was an off day, I was walking with my partner [Drew Saluga] in New York City, just having fun, and they call and they say "Jen, we have something that we think you might want to do." And I say, "what is it?" They said, "Cooperstown called, and they were wondering if they could have your mask." And being from New York, first of all, this was completely unexpected, and being from New York, I've been up here so many times, there's a lot of shops and things, I didn't know exactly what they were referring to in Cooperstown and so I said to them, "what are you guys talking about? You mean the Hall of Fame?" And they said yes and that's when my whole body just gave out. I had to lean against the building, and I told them, "absolutely."
Yeah, I'll never forget it.
HOF
Can you walk us through the process of how you broke into the professional umpiring ranks?
JP
It is literally every single pitch and rep that you do, you have to do it better. Literally, every single time. And you climb your way to a job. There's no other way to describe it. You can't take any reps off during the tryout process. Everything matters. You're always being evaluated, like on the field, off the field, during umpire school. You can only earn a job in professional baseball through one of the two umpire schools. So, my opportunity came to just tryout because I went to the Major League Baseball Umpire Camps program to see if this would even be a thing that would be accepted. It was a completely a level playing field and during umpire school, everyone helps each other get through all their drills. From seven to eight am, you have breakfast. You have to be at the door to get into the classroom at quarter to eight. From eight to twelve, you're in classroom instruction, for five weeks, every single day. We had 17 exams. From noon to one, is lunch, but you have to be at the field at quarter to one. And from one to six, you run. Every single day. Then you go to dinner, and then you do your homework.
It's this really grueling process so that if you don't absolutely love baseball, and don't absolutely love being an umpire, you won't make it. And they have to because with our season, you never get a day off. Like, we just did 80 games in a row. And then before that, we get about 60 in extended spring training.
HOF
What are your career goals? Is it Major League Baseball?
JP
It's one pitch at a time. It's really a very old-school ladder system, and you can't take a play off. It literally never changes. And it's been such an amazing opportunity to be involved in this because I've had a lot of other jobs and to be able to be promoted and move up in a system is wonderful. The ultimate goal is to make it to Major League Baseball, so yeah, absolutely. And I think any minor league umpire would say that because they wouldn't go through that otherwise. That would be the ultimate to have a career in Major League Baseball, yeah, for sure. You just gotta live it out, take it one day at a time and pray you don't get injured.
HOF
You described some challenging aspects, but what in your mind is your most challenging aspect of the job?
JP
I would say it's the game management aspect. We, as umpires, walk a very thin tightrope. You want to remain in control of the game, but then there are certain times that people have to go. But as I'm learning, there's a lot of gray area from that point someone has to go from the start of the game to the moment where you have to remove somebody. There's a lot of things that we can do so that person never has to leave the game or a brawl doesn't break out. There's a lot of things that we see, fights or someone coming up and yelling in your face type of thing, so there's a lot of game management that I think is the most difficult but is also the most intellectually challenging, stimulating, it's like the puzzle that keeps changing.
There's a young guy on the Staten Island Yankees who's throwing 104. It sounds really fast, but when you get behind the plate, it actually looks really slow. When the pitches come in, because we do the same thing every single day, we see the pitches all the time, there's a lot that's routine.
So the game management is challenging because everybody's personality is different. You're working with different teams almost every day – there's a different line up, different manager, different meanings to games. Some games mean nothing, so to speak, other games are towards the end of the season and people are emotional. If a manager or coach comes out and if I don't say the exact rule, then he may ignite. But if I say it in a calm way, it'll de-escalate.
HOF
Have you ever had to throw anyone out?
JP
Yes. We had four this year.
HOF
Do you have any advice for other women (or men) who would like to pursue an umpiring career?
JP
Absolutely. Start early. Like, as soon as you get your driver's license. You're just at the beginning, especially if you played baseball or softball, or even other sports, get going early. You can get your gear early, get learning the rules early, and the money is really great for somebody who's trying to fill their gas tank. Start working youth games in a local chapter, go to some clinics, go to the Major League Baseball clinics, they're free. You just have to show up. And there's a really nice mentor system in umpiring. It is a fraternity where the older generation brings along the younger generation, so get in on that and get with people who will show you the ropes and you'll make money doing it. There's a lot of people who've gotten injured while playing and can't play anymore so instead of not being involved, they umpire and officiate and are still a very big part of every game.
HOF
Do you have a favorite umpiring moment?
JP
Let me think about this, because there's been quite a few. Well, I'd have to say working my very first professional game was extremely special. It was down in Dunedin, Fla., and (2013 J.G. Taylor Spink Award winner) Paul Hagen came down from MLB.com. Scott Malloy was my partner for the Gulf Coast League and we rubbed up the baseballs together and we did everything. Looking back, I think that was so special to have that opportunity after the length of time it takes to get there.
There were a number of times where little girls and older women would come up to me, especially this season, and they would ask to take their photograph with me, if I could autograph something and that was very touching. A lot of this that has been happening has been very unexpected, but the general enthusiasm of women is great.
For those interested in Major League Baseball Umpire Camps, you can go to the MLBUC Facebook page and email the staff to find out where the 2018 tryouts are located.
---
Gabrielle Augustine is the assistant curator at the National Baseball Hall of Fame and Museum