It all sinks in: Hall of Fame electee Mike Piazza visits Museum
The two new BBWAA electees will be inducted during a ceremony on Sunday, July 24, in Cooperstown.
As part of his orientation, Piazza was given a tour by Erik Strohl, the Hall of Fame's vice president of exhibitions and collections. Afterwards, the 47-year-old Piazza, looking as if he could still crouch behind the plate as well as launch an outside fastball into the right-field seats, strolled through the Plaque Gallery, dressed in jeans, a blue button-down shirt and sneakers, and was shown not only the plaques of the first five legendary Hall of Famers, but also the spot where his own bronze likeness will hang this summer.
Shop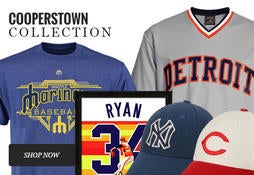 Represent the all-time greats and know your purchase plays a part in preserving baseball history.
"As you can tell, coming here for the first time in a long time, it's so incredibly powerful," said Piazza in an opening statement to the assembled media stationed at one end of the Plaque Gallery. "This whole year for me has been so euphoric and it's such an honor to be put, obviously, in the Hall of Fame. But also the amount of people that have reached out, giving their good wishes to me.
"It's just something that when you come here and you see the history here, you see the exhibits, and the players you played with and against, and as a kid, it all sort of circles back here today. For the lack of a better word, it's just a powerful experience because the game has given me everything that I have today as far as a great career and a great living and memories and things that will remain with me forever. So to see this Hall and the amount of dedication and artifacts that have been preserved is something very special."
"Going back to the evolution of the game is something, as a player, you only sort of think of that window you played in," Piazza said. "But just watching the way the equipment changed. I think that is what's so special about baseball is its connection to history. Even though the players were different, the equipment was different, the pace of the game was different, it still very much has an important significance in the life of being an American.
"And then to see a Mike Schmidt bat. I grew up watching the Phillies in the 1970s. That was a time I loved to watch and followed them. And coming full circle with the Mets and seeing Tom Seaver and his plaque as well, it starts to hit home."
When asked about seeing where his own plaque would be, Piazza called it "powerful" and "emotional."
"And knowing that it's even going to be here even after you've passed, is powerful as well," he said. "You start to see your own mortality in a way. And not in a bad way, in a good way, because you see Babe Ruth and Ted Williams and many contemporary players that have passed."
When you get a text from Johnny Bench and Mike Schmidt, it's like, 'How'd you get my number?'"
Class of 2016 electee Mike Piazza
As for his anticipation as the summer approaches, Piazza said, "It's very exciting for me and I'm definitely very nervous in a way because I think about the amount of players that I idolized that are going to be there, so I'm starting to work on the speech. It's a rough draft. I'm going to try and not go too long. They always say, 'Don't go too long.' I'm like, 'All right, OK, I'll keep it short.'"
"But getting to New York in 1998 was truly one of the greatest blessings of my life. When I first got there it wasn't the easiest introduction, because I think there was a lot of trepidation – they didn't know if I was going to stay and I was a free agent – but then once I decided to really become a Met and embrace the city things changed for me, and for the better."
Looking back on the January morning he received the news of his election to the sport's most exclusive team, Piazza talked of his emotions.
"Personally, calling my father was powerful. The most important thing for me was touching base with him. He was the main catalyst for me who encouraged me to play the game," he shared. "And then as far as congratulations, when you get a text from Johnny Bench and Mike Schmidt, it's like, 'How'd you get my number?'
"Even on a comradery level here, it's like a big fraternity in way. I can't wait to get to the hotel in the summer and sit on the porch with these guys and have a cigar and talk about … [Hall of Fame President] Jeff (Idelson) had a great expression: Your fastball gets a lot faster and the home runs go a little farther."
Bill Francis is a Library Associate at the National Baseball Hall of Fame and Museum