New Hall of Fame plaque sculptor Tom Tsuchiya to debut in 2016
Tuesday, February 16, 2016
Sculpting for the Cincinnati Reds since 2003, Tsuchiya's previous work includes eight life-size bronze statues that were commissioned by the Reds to honor their greatest players.
Donate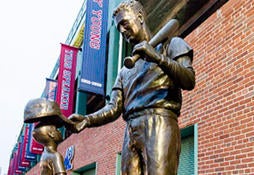 Make a gift in memory or honor of your favorite baseball legend and preserve their legacy in Cooperstown. Your favorite ballplayer, a coach, your mom or dad, a teammate – who is your baseball hero?
Shop
Represent the all-time greats and know your purchase plays a part in preserving baseball history.
"This project is especially exciting from a personal perspective," said Tsuchiya, who grew up minutes away from Ken Griffey Jr. in a neighboring Cincinnati suburb. "In 2002, I met him on the field before a game, and I remember being in awe of his presence. It's pretty amazing that he will be one of the first likenesses that I will sculpt for the Hall of Fame."