Museum's Shoebox Treasures exhibit tells the story of baseball card collecting
Visit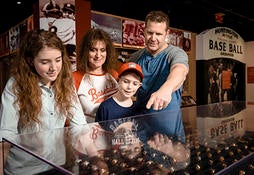 The Museum in Cooperstown features more than 50,000 square feet of exhibits devoted to the National Pastime.
Join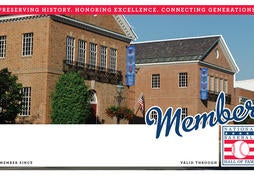 As the keepers of the Game's history, the Hall of Fame helps you relive your memories and celebrate baseball history.
- Peck & Snyder card c.1871 of the Mutual Base Ball Club of New York
- 1909-11 T206 Eddie Plank, loaned to the exhibit courtesy of Ken Kendrick
- 1909-11 T206 Honus Wagner
- 1914 Cracker Jack Christy Mathewson
- 1916 Sporting News Babe Ruth, on loan from the PWCC Vault
- 1923 Maple Crispette card of Casey Stengel, the only known example
- 1934 Goudey Napoleon Lajoie, which replaced the 1933 Goudey Lajoie that was unprinted
- 1949 Leaf Jackie Robinson
- 1952 Topps Mickey Mantle
- And the 1954 Bowman Ted Williams, which was removed from the market when Bowman learned that Williams had an exclusive deal with Topps; loaned to the exhibit courtesy of Ken Kendrick
"The history of these cards is amazing, and the exhibit is just great. Anyone who comes here is going to have something they remember."
A fundraising campaign to design, build and maintain the exhibit has already reached its goal thanks to generous donations from Ken Kendrick, Glenn Doshay and Bill Janetschek, with additional support from Tony and Nanar Yoseloff, and an outpouring of generous gifts from hundreds of Museum Members. The grassroots support has allowed the project to expand to include future cataloging and conservation work on the Museum's collection of cards.
Craig Muder is the director of communications for the National Baseball Hall of Fame and Museum