Join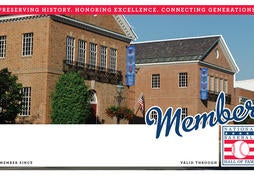 As the keepers of the Game's history, the Hall of Fame helps you relive your memories and celebrate baseball history.
Shop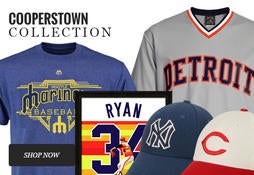 Represent the all-time greats and know your purchase plays a part in preserving baseball history.
The exhibit features the ball/strike indicator used by home plate umpire Ted Barrett, as well as a copy of the score book, which serves as a striking visual representation of just how long that game wore on.
The 2018 World Series also served as a significant moment in Puerto Rican history, because it was the first time a Puerto Rican manager had brought his team to victory in the Fall Classic.
First-year manager Alex Cora's distinctive cut-off hoodie, worn in Game 5 of the series, accordingly has a place in the exhibit.
In recognition of this achievement, the helmet Holt wore throughout the postseason – including when he hit for the cycle – is featured in Autumn Glory.
Other featured items include starting pitcher David Price's Game 5 jersey, World Series MVP Steve Pearce's bat, Nathan Eovaldi's cap and spikes and, a particular favorite of Augustine's: Reliever Joe Kelly's game-worn glasses.
"There aren't many players who wear glasses during a game, so it isn't often that we get to feature an artifact like that.," Augustine said.
---
Isabelle Minasian is the digital content specialist at the National Baseball Hall of Fame and Museum