First BBWAA Hall of Fame election remains a landmark vote
Hall of Fame Weekend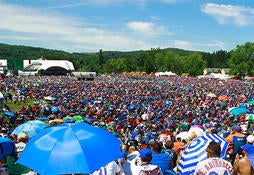 Make your childhood dream a reality. Your memories come to life as we celebrate the Class of 2017 with over four dozen Hall of Famers.
Donate
We need your help to preserve priceless treasures housed here in Cooperstown. Make a gift today to help ensure that fans around the world can have online access to the Museum collections and Library archive.
The omissions of certain players from the previous 36 years caused such an uproar among the press and fans that by January 1936 Edwards had amended his original 33-man ballot to also include the names of Johnny Kling, Ray Schalk, Gabby Hartnett, Billy Sullivan Sr., Dazzy Vance, Lefty Grove, Bill Terry and Charlie Gehringer.
"The ballot did not say the voter had to vote for the players I listed," Edwards said. "I simply set down a bunch of the best names without any intention to lock out anybody. I am led to suspect that some of the electorate is very dumb."
It was also discovered around this time that some members of the BBWAA thought that they were being asked to list an all-star team instead of the 10 greatest players without regard to position. Those ballots sent in with what looked to be an all-star team were returned by Edwards along with a new ballot and a letter making it clear that the voter can nominate 10 players from any combination of positions.
News of the Hall of Fame's first BBWAA electees was released on Feb. 2, 1936, with only Cobb, Ruth, Wagner, Mathewson and Johnson receiving the required 75 percent of the BBWAA's vote from the 20th century ballot.
Of the 226 votes cast, Cobb received 222, Ruth and Wagner received 215 each, Mathewson 205 and Johnson 189. Seventy-five percent of the total votes, or 169, were needed for election. In total, 51 players were named.
"I deeply appreciate the honor," said Cobb, interrupting a round of golf in San Francisco to hear the news. "I am overwhelmed. I am glad they (the writers who elected him) feel that way about me. I want to thank them all."
"Eleven voters wrote down the names of their top 10 of modern times and ignored Babe Ruth completely. Eleven voters treated Hans Wagner in the same cavalier fashion.
"Beyond these items, the returns were fairly satisfactory. The fact that only five players received enough votes to qualify them for inclusion in the Baseball Hall of Fame is a good thing. A Hall of Fame for any field should not be filled too hastily."
---
Bill Francis is a Library Associate at the National Baseball Hall of Fame