Baseball in Britain told through 1891 volume
Written by: Gretyl Macalaster
A recent addition to the National Baseball Hall of Fame library's collection helps to tell the story of early attempts to introduce the game of baseball to the people of Great Britain.
Baseball, an 1891 book of rules, was discovered in a street market in London by long-time baseball fan Saul Issroff and recently donated to the Museum, which was very excited to add this unique item to the collection.
Issroff first came to love baseball as a child in South Africa in the 1940s and 1950s when baseball was far from a popular sport in the country. In fact, Issroff remembers few children being at the local games he regularly attended with his uncle, Joseph Katzen.
Katzen, a New Yorker, married Issroff's aunt and in 1924 the couple settled in South Africa. In Johannesburg, Katzen and a few other Americans put together an informal baseball league and promoted the game as well as they could. Issroff remembers attending many games with his uncle and getting his very own catcher's outfit after Katzen made a trip back to the United States in the 1940s.
"So in the 1940-1950 period, I had my own catcher's outfit, bat, etc. Very unusual for a kid in South Africa," Issroff said during a recent phone interview from London.
Baseball would take off in the country following World War II with local teams playing against visiting American and Japanese players. By 2006, South Africa was competing in the World Baseball Classic.
Issroff said he was not terribly good at sports, but he carried his baseball memories with him to England where he emigrated in 1980, and where he would stumble upon the old book of baseball rules in a street market in London.
"I picked it up for a small amount of money. It looked interesting," he said.
It was part of the "All-England Series" that included books of rules for over a dozen sports including cricket, lawn tennis, hockey and boxing. The book was written by Newton Crane, then president of the National Baseball League of Great Britain and a former United States Consul in Manchester.
In his "Prefatory Note," Crane writes, "The following pages have been written in the hope that they may afford practical assistance to the large and rapidly increasing number of young men in this country who have manifested a desire to acquire a knowledge of baseball, and to learn to play the game."
The first chapter lays out his "history of the game" and describes it as not only of English origin but as "… one of the most ancient of English sports." Crane states that baseball "undoubtedly" owes its origin to the English game of rounders, but in a footnote brings up A.G. Spalding's belief that baseball descended from the old French game of tcheque. Spalding, a former ballplayer, helped to create one of the most popular brands of sporting equipment and helped to establish the Mills Commission which was appointed in 1905 to determine the origin of baseball.
While it is unlikely anyone will ever know those origins, the fact that it was being discussed in England helps to illustrate the early international interest in the game and its provenance.
According to Crane, modern baseball was first seen in England in 1874 when the Boston Red Stockings and the Athletics of Philadelphia toured through the counties for a series of exhibition games. He writes that fairly good audiences attended, but "little interest was evinced in the sport, or in the presence of the visiting Americans." He writes that there was no great likeness to any other game of ball – no stumps to defend as in cricket, no goals, and there was confusion in the variety of rules. "Thus the efforts of the Boston and Philadelphia players to introduce baseball in England resulted in complete failure," Crane writes.
The Brits saw nothing of the sport again until Spalding took a team of professional ballplayers on a world tour in 1888-1889, drawing attention from England, where the team played in March 1889. Crane recounts a story of the Prince of Wales attending a game in London between the Chicago White Stockings and the All-America team at Kennington Oval, telling a reporter that although he considered baseball an excellent game, he considered cricket as superior.
Following this visit, a group of American college players spent time in England to teach the game wherever they could. Out of this, the National Baseball League of Great Britain was born.
Crane questioned whether baseball would "take" in England. By 1891, baseball had already taken hold In Canada, Cuba, Mexico and the Sandwich Islands. It was also rapidly gaining traction in Japan, Australia and New Zealand. Crane said baseball's success in the first year of introduction did bode well for the sport in Great Britain, but as we know today, this did not last.
According to Issroff, he is not in touch with baseball enough to gauge its current popularity in either England or South Africa, but his memories of spending time with "Uncle Joe" on the diamonds of Johannesburg have not waned.
As a result of Issroff's early introduction to the sport and having friends from Johannesburg later settle in Cooperstown, he toured the National Baseball Hall of Fame and Museum and decided this year to donate his little book of British baseball rules to the collection.
"I really enjoyed the visit to the Hall of Fame … and just had the idea of checking if they had this book in the library and then donated it," Issroff said. "I figured it would be a lot more useful there than lying around here."
The book, now a part of the Hall of Fame Library's collection, will remain a testament to the interest of the sport abroad as well as in the United States.
---
Gretyl Macalaster is a 2015 library research intern in the Frank and Peggy Steele Internship Program at the National Baseball Hall of Fame and Museum
Library Resources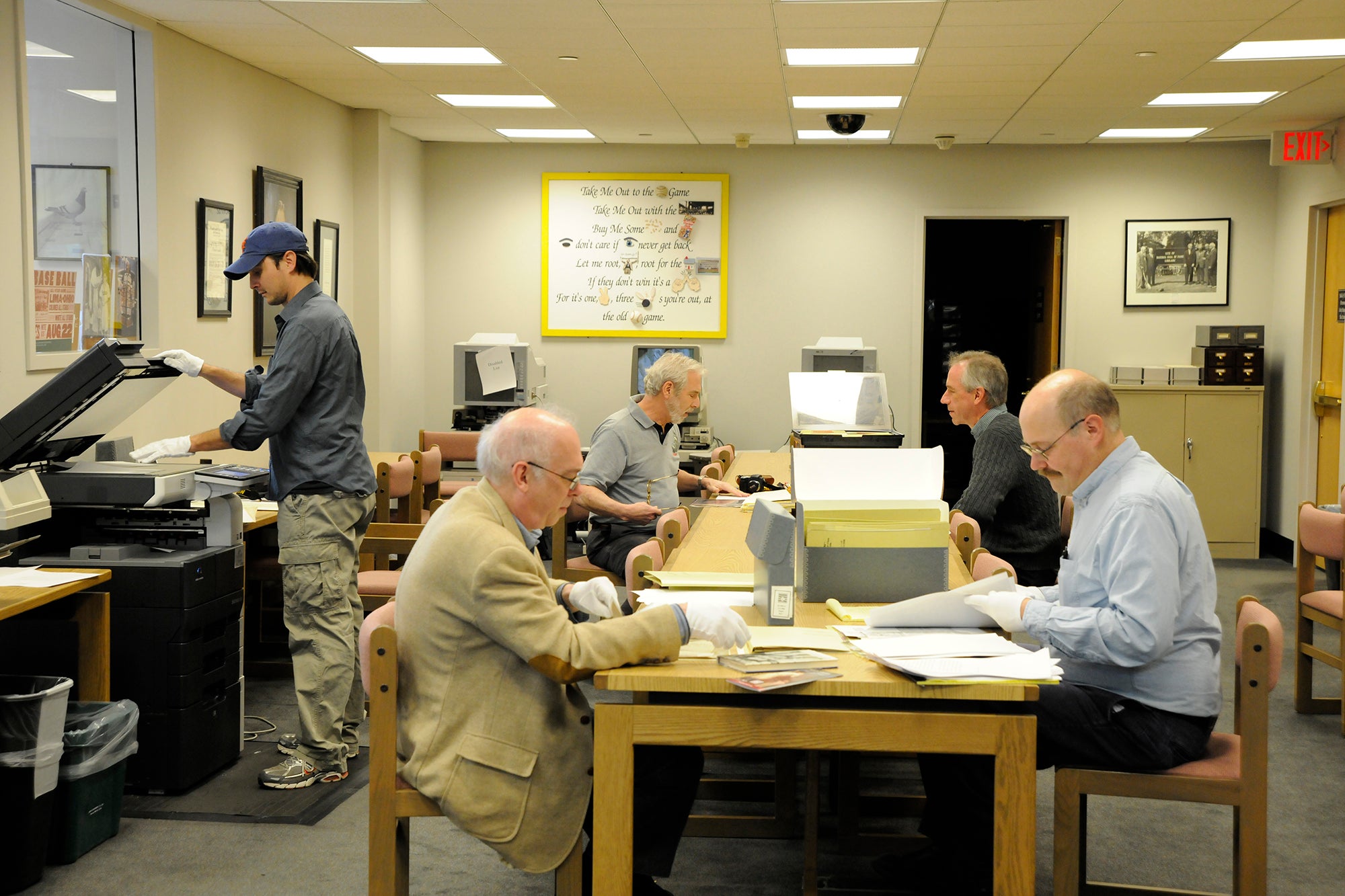 Visit the Giamatti Research Center
Schedule a research visit or contact us for research help in the library and manuscript/photo archives.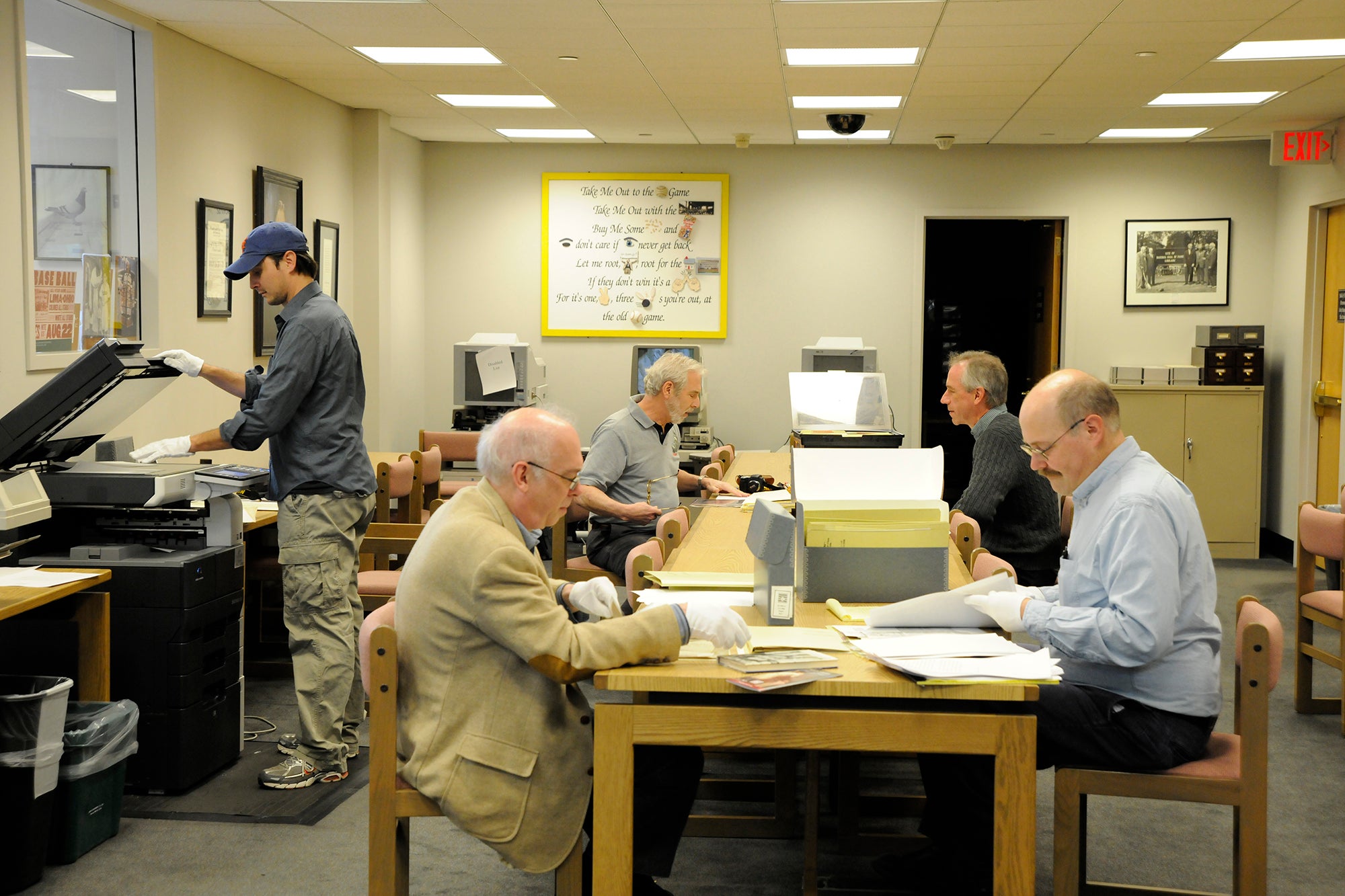 Visit the Giamatti Research Center
Schedule a research visit or contact us for research help in the library and manuscript/photo archives.
Contribute to the Collection
Donation of collections and individual items to the library are encouraged, and a Library Acquisitions Committee meets frequently to assess proposals. Inquiries regarding the donation of library-related material may be directed to the Giamatti Research Center.
Support the Hall of Fame