Lifelong baseball fan present at first HOF induction returns to Cooperstown 78 years later
Twelve-year-old Betty Roxborough arrived in Cooperstown on June 12, 1939 well-informed. As a child who had fallen asleep listening to Red Sox broadcasts on the radio, she was quite familiar with the likes of Nap Lajoie, Babe Ruth and Walter Johnson. But as big of a baseball fan as Betty was, she had never seen the players in person.
"We were walking down the street, and my father was saying 'Betty Betty – there's Ty Cobb,' 'Betty Betty – there's Tris Speaker," she said in an interview with the Hall of Fame. "I didn't recognize these people. How he did, I don't know – there was no television. My dad must have loved baseball."
Now 90-years-old, Betty Roxborough still has vivid memories of her first trip to 25 Main Street – which just so happened to coincide with the first Hall of Fame Induction Ceremony in 1939. Seventy-eight years after that day, she's returned to the place where players she'd once listened to on the airwaves came to life.
Donate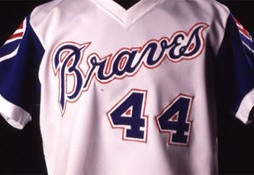 We need your help to preserve priceless treasures housed here in Cooperstown. Make a gift today to help ensure that fans around the world can have online access to the Museum collections and Library archive.
Join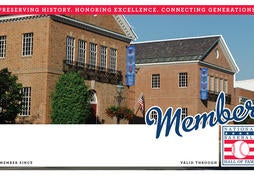 As the keepers of the Game's history, the Hall of Fame helps you relive your memories and celebrate baseball history.
"After the speeches I went up for autographs, and the first one I got was Walter Johnson," she said. "And he just smiled at me. I can still see that. He must have liked children. My father and I were then walking down the street, and Ty Cobb is across from us – nobody is bothering him. Just me. You'd never find that again."
On her recent trip to Cooperstown, Roxborough brought the program Johnson signed, complete with the lightly-penciled signatures of Eddie Collins, Cobb and more Hall of Famers. Inside it is her scorecard from the first Hall of Fame Game, during which a recently retired Yankees legend made a guest appearance.
"I remember as a surprise, Babe Ruth put on a uniform and came out and pinch hit," Roxborough said. "Somebody told me he popped up – I don't remember that. It was such a thrill to see him. You could tell it was Babe Ruth. I took out my little camera and I took a picture and I sent it to him, like an innocent child. And he sent it back, autographed. And I gave it to one of my sons."
But this would not be her final run-in with baseball legends. Although Roxborough has lived everywhere from Toronto to South America, the National Pastime has accompanied her at every stop. She's seen Chief Bender at the tail-end of his career.
"I went to a game with my father at Jamestown, New York," she said. "Chief Bender was a star. My father was like a big kid, I had never seen him like that."
And Ralph Kiner at the very beginning of his.