#CardCorner: 1968 Topps Pete Richert
Growing up, I had bad hair. To borrow a phrase from Colonel Henry Blake of "M*A*S*H", my hair was so thin I could have combed it with a towel. Even then, it was still a scattered mess.
So when I saw Pete Richert's 1968 Topps card, my thoughts went immediately to my childhood hair. Of course, in Richert's case, he is a fully grown adult, so it would have been difficult for him to say, "I'll grow out of it," as I used say.
Recognition Opportunity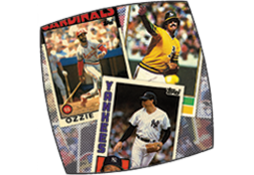 Receive a baseball card autographed by a Hall of Famer with a gift of $1,000 or more. Your choice of Rollie Fingers, Goose Gossage or Ozzie Smith.
Recognition Opportunity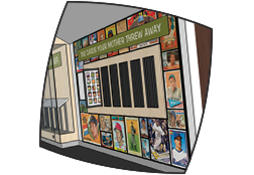 Have your name listed on a plaque on one of the high-capacity card drawers within the Shoebox Treasures exhibit with a gift of $5,000 or more. Also includes autographed baseball card and name listed on exhibit credit panel.
In actuality, the Topps photographer has probably just caught Richert at an inopportune moment, fresh off a bad haircut and a hot spring day of wearing a cap over the head.
Like many players of the 1960s, Pete Richert (pronounced RICK-ert) is wearing his hair in a short, military style cut. (Major league players did not start to wear their hair long until the early 1970s, a good half-decade after it became fashionable for American men to do so.)
If you press a cap over that kind of hair, allow the perspiration to accumulate for a while, and then suddenly remove the cap without brushing your hair, the end result is a spiked effect with a few loose strands hanging off the side. That's exactly what we see with good ol' Pete. Ah, the perils of being a ballplayer and having your photograph taken on short notice.
There is one other oddity to Richert's 1968 card. The uniform he is wearing has pinstripes, but the designation on the card is "Orioles." Of course, Baltimore did not wear pinstriped uniforms back in the mid-1960s. The uniform in question is actually the home jersey of the Washington Senators; that was the team that Richert was pitching for when this photograph was taken, likely during Spring Training in either 1966 or '67.
In the 1960s, it was common for Topps to take photographs of players without caps. The photographs especially liked to do this with players who were not stars. Star players generally stayed with the same team year after year, but if you were something other than a star, there was that very real possibility of being traded. Topps figured that by taking a capless photo of journeymen, or common players, the photo would still hold even if the player were to be traded during the next calendar year. In Richert's case, the capless look provided cover for the trade that sent him from the Senators to the Orioles.
Richert delivered the best season of his career: a 1.98 ERA over 50 games, a record of 7-2, 13 saves and 66 strikeouts in 54 innings. Richert emerged as the team's best reliever, just as the Orioles emerged as the game's top team. After steamrolling the American League East and sweeping Minnesota in the ALCS, the Orioles dismantled Cincinnati in the World Series. Richert made one appearance, notching a save in Game 1.
The 1970 campaign turned out to be Richert's last hallmark season. His performance fell off considerably, with his ERA rising to 3.47. Still, the Orioles won their third straight pennant, giving Richert a chance to make another scoreless appearance in the World Series. Much like 1969, the Orioles found themselves upset by an underdog team of overachievers, this time the Pittsburgh Pirates.
The 1971 World Series marked the end of Richert's time in Baltimore. That winter, the Orioles pulled off a blockbuster trade with the Dodgers, sending Richert, who was now 32, and Frank Robinson to LA for a package of young prospects, headlined by promising right-hander Doyle Alexander. For the second time in his career, Richert became a Dodger.
Over the next two seasons, Richert pitched effectively as a middle man out of Walt Alston's bullpen. Needing some help with their offense, the pitching-rich Dodgers traded Richert to St. Louis at the 1973 Winter Meetings, in a straight up deal for veteran outfielder Tommie Agee. In 13 games with LA, Richert posted an ERA of 2.38, but his control had abandoned him; he walked 11 batters in 11 innings. In late June, the Cardinals sold him to Philadelphia, where he pitched effectively over 21 games, but came down with a bad elbow, ending his season early.
Richert never pitched again. A late-season examination showed why he had elbow pain: a clot in his pitching arm, which required surgery. The medical condition convinced Richert that it was time to retire.
That October, Richert did some broadcast work during the World Series but then left baseball to start an organization called Athletes for Youth, which counseled youngsters against the perils of drug abuse. As part of his organization's work, Richert regularly spoke to drug addicts and visited methadone centers. Given his work with military veterans, none of Richert's efforts to help those affected by drug abuse should have come as a surprise.
In 1989, Richert returned to the game as a minor league pitching coach. He worked almost exclusively on the West Coast, allowing him to stay close to his family in Rancho Mirage. In 2001, Richert left the game for good, beginning a life of retirement in Southern California. Even in his late 70s, he continues to spend much of his time playing golf near his home.
For so many years, Richert has been remembered mostly for his remarkable major league debut and for the infamous J.C. Martin play in the World Series. Card collectors have also had fun with Richert's weirdly spiked hair, so evident on his 1968 Topps card. But those stories give us little insight into Richert's real character and legacy. He deserves to be remembered far more for his selfless work with wounded warriors and those plagued by the ills of drug abuse. The man with the bad hair is truly one of the game's good guys.
---
Bruce Markusen is the manager of digital and outreach learning at the National Baseball Hall of Fame
For the first time in the Museum's history we will take a comprehensive look at the history of baseball cards, collecting and the connection generations of fans have had to these Shoebox Treasures. We are in the midst of a public campaign to "get us home" and make Shoebox Treasures, the name of this exciting new exhibit, a reality. Will you consider making a one-time gift to help us reach our goal?
You can donate at www.baseballhall.org/shoeboxtreasures to help ensure that Shoebox Treasures will open in 2019.