#CardCorner: 1983 Donruss Pat Tabler
Admittedly, the Chicago Cubs' road uniforms of the late 1970s and early 1980s looked a little bit bizarre. With their light blue coloring and white pinstripes, they reminded me of some child-appropriate pajamas that I used to wear a few years earlier. As I recall, those pajamas were blue and had stripes, too.
Recognition Opportunity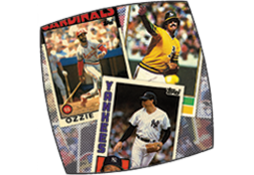 Receive a baseball card autographed by a Hall of Famer with a gift of $1,000 or more. Your choice of Rollie Fingers, Goose Gossage or Ozzie Smith.
Recognition Opportunity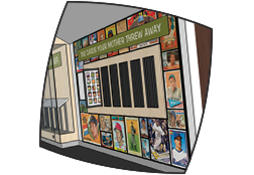 Have your name listed on a plaque on one of the high-capacity card drawers within the Shoebox Treasures exhibit with a gift of $5,000 or more. Also includes autographed baseball card and name listed on exhibit credit panel.
Most Cubs fans I've talked to didn't like those pajama-style uniforms, but I must admit an odd affinity for them. Maybe it's because I have fond memories of wearing those comfortable pajamas at the age of six or seven. Or maybe it's because I've always liked pinstripes, whether they be the ones used on the Cubs home uniforms, or the classic home outfits of the New York Yankees. Or maybe I took a special liking to those uniforms because I happened to watch the Cubs so often on afternoons when WGN carried their games.
I must also admit that I like the inclusion of the blue cub logo on the left sleeve, highlighted by the bright red circle. Some logos blend into the uniform design so smoothly that they become lost, but the Cubs' logo really stands out on this version of Chicago's road outfits. With that logo, and those pinstriped blue colors, there was no mistaking the Cubs for any other team.
The Cubs' uniform is on full display on Pat Tabler's 1983 Donruss card. Tabler was one of my favorite players in the early 1980s, he was a hard-hitting infielder with a smooth, even-keeled swing. At one time, Tabler was a top prospect for the New York Yankees and appeared on the cusp of stardom.
As a young Yankee fan, I hoped that Tabler would become the team's new third baseman, the successor to an aging Graig Nettles. And then I had the dream crushed when I learned that the Yankees had sent their young prospect to the Cubs for a pair of players to be named later, who turned out to be relievers Bill Caudill and Jay Howell. Much to my chagrin, Tabler would never play a single game in Yankee pinstripes.
He received a contract offer worth approximately $1 million from a team in Japan, but decided to remain in the states. He also received non-guaranteed Spring Training invites from the Boston Red Sox and Philadelphia Phillies; but rather than settle for a conditional deal, Tabler felt the time was right to step aside.
Tabler had little trouble in making the transition to life after playing. In 1993, he joined the broadcast crew of the Blue Jays, where he has worked as a studio host and TV analyst ever since.
As a broadcaster, Tabler has been asked many times about his proclivity at hitting with the bases loaded. To this day, he has never been able to come up with a tangible answer, other than to attribute his success to "good luck." That's probably just Tabler being modest.
In actuality, he showed remarkable perseverance, toiling for nearly six full seasons in the minor leagues while constantly being switched from one position to another, before finally making it onto a big league roster. And then he managed to stick around for a dozen seasons.
That's more than just luck. Mr. Clutch mixed in a little bit of grit and determination, too.
Bruce Markusen is the manager of digital and outreach learning at the National Baseball Hall of Fame
For the first time in the Museum's history we will take a comprehensive look at the history of baseball cards, collecting and the connection generations of fans have had to these Shoebox Treasures. We are in the midst of a public campaign to "get us home" and make Shoebox Treasures, the name of this exciting new exhibit, a reality. Will you consider making a one-time gift to help us reach our goal?
You can donate at www.baseballhall.org/shoeboxtreasures to help ensure that Shoebox Treasures will open in 2019.