Classic brings the best of baseball to Cooperstown
In an early afternoon Saturday matchup at historic Doubleday Field, with slightly overcast skies, temperatures in the high 60s and occasion drizzle, Team Rollie and Team Goose, skippered, respectively, by Hall of Famer closers Rollie Fingers and Goose Gossage, ended the exhibition in a 9-9 tie. Hall of Famers Tim Raines, Alan Trammell, Trevor Hoffman and Bert Blyleven served as coaches.
Hall of Fame Online Store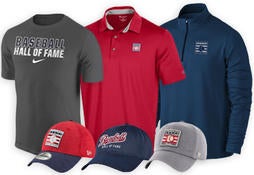 Proceeds from online store purchases help support our mission to preserve baseball history. Thank you!
Join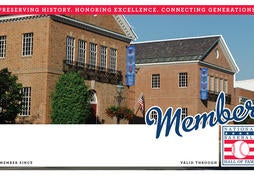 As the keepers of the Game's history, the Hall of Fame helps you relive your memories and celebrate baseball history.
Orlando Cabrera, the starting shortstop for Team Rollie and representing the Angels, captured the Bob Feller Player of the Game Award by batting 2-for-5 with a grand slam home run, a sacrifice fly and five RBI. Cabrera also played in the 2015 Hall of Fame Classic while representing the Red Sox.
"I haven't swung a bat in forever," Cabrera said to the media, his daughters draped over him with affection. "It's nice for them to see me in uniform. They hear people talking about me, so it's nice for them to see it."
The seven-inning contest, which featured recently retired players from all 30 major league franchises, saw Jason Marquis start and toss two scoreless innings for Team Rollie, while Brett Tomko pitched the first and last innings for Team Goose. Besides Cabrera, Team Rollie's offense was helped by two hits each from A.J. Pierzynski, Todd Zeile, Orlando Hudson and Marquis. Team Goose saw Chris Snyder go deep twice and Charles Johnson once, while Willy Taveras and Jack Wilson added two hits apiece.
"I did one (Home Run Derby) in the big leagues and one in the minor leagues," said the 37-year-old Hart, who was representing the Brewers. "I don't know if that helped today. I think the best I did in those was coming in third."
The big leaguers who took part in the weekend's festivities all had a positive experience on and off the diamond.
Steve Sax, the longtime second baseman representing the Dodgers, said: "I like it – the whole surrounding area. I'm a history buff so I love coming here and seeing the Hall of Fame. Anybody that has a chance to come up in this area should take advantage of it. If you love baseball and you love history, there's nothing else like the Hall of Fame. It's really something unique in its own right. It's pretty special.
"And any time you get to see your brethren, it's like time has stood still. Nothing has changed. The jokes are the same. You're finishing each other's sentences. I really enjoy being around the guys."
For Mariners pitcher Ryan Rowland-Smith, it was his third consecutive year coming Cooperstown for the Hall of Fame Classic.
Pierzynski, last year's Home Run Derby champ, said: "I love coming back here. Any time you get a chance to come to the Hall of Fame and walk around and look at all the stuff and see something different. It's an amazing place. As a former player and baseball fan still involved in the game, it's just an amazing place. It just brings goosebumps to me every time I walk in here. It bring you back to your childhood, remembering where you were when you saw certain events. It's just a special place."
During his playing career, Pierzynski donated the bat he used for his 2,000th career hit to the Hall of Fame.
"I was joking around with Joe Nathan today that there's a bat of mine here from my 2,000th hit and I told him I got a couple of those hits off him," he said. "He kind of growled at me and said he broke my bat a couple of time, too.
"Anytime the Hall of Fame calls and asked for a donation, it's an automatic yes. No matter how much you want to keep it, you give them an absolute yes."
Nathan, a New York native, played at Doubleday Field numerous times as a youngster and then as a big leaguer with the Twins in the 2005 Hall of Fame Game.
"This is a special place. Coming here, especially now when I get the chance to bring my kids here for the first time, it's just full circle for me. It's always a special place to come to – as a kid, as a player, and now as a dad. It's just cool for me to be able to bring them for the first time.
"We always knew we were very lucky as players to do what we did. But coming back here and experience what we did as players is really great."
Following the Hall of Fame Classic game, the evening saw the Hall of Fame hold its annual Night at the Museum program, an event where the Hall of Famers and former players involved in the Classic greeted fans throughout the Museum.
---
Bill Francis is the senior research and writing specialist at the National Baseball Hall of Fame and Museum