Classic Clinic brings kids, players together at Doubleday Field
Doubleday Field played played host to approximately 250 children aged 7-12 who took part in the 2019 Cooperstown Classic Clinic, a prelude to Saturday's Hall of Fame Classic legends game.
Hall of Fame Online Store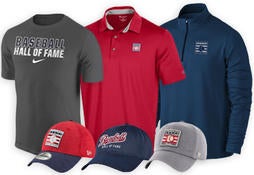 Proceeds from online store purchases help support our mission to preserve baseball history. Thank you!
Join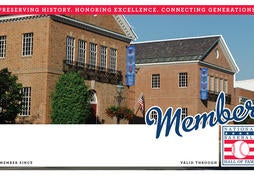 As the keepers of the Game's history, the Hall of Fame helps you relive your memories and celebrate baseball history.
Instruction on this day was provided by nine recently retired major leaguers, including pitchers Jeff Francis, Brad Hennessey, Brett Tomko and John Parrish; infielders Mark Teahen, Orlando Cabrera and Carlos Baerga; outfielder Willy Taveras; and catcher Michael Barrett.
"Our kids are six, four and two, so explaining to them what exactly the Hall of Fame is and what they are getting to experience is a little difficult for them to understand," said the 37-year-old Teahen. "They already have the baseball fever, so I'm sure they'll look at this trip down the road and remember how cool it was.
"The main thing at this stage is for them to really enjoy the game." Teahen's last big league action came in 2011, but he still stays involved.
"I got to play baseball for Italy for a summer, which was awesome, and last year got to play in the Bluegrass World Series, which was a team of a bunch of veteran guys. I think I got invited because Chipper (Jones) was getting inducted into the Hall of Fame so they needed another third baseman," Teahen joked. "So I try and stay around the game a little bit. I've been out of it long enough to where I'm interested in circling back and doing something in the game. We're busy with the kids, but baseball, obviously, is still important to our family."
Taveras made the trip to Cooperstown with his wife, who is expecting a boy in August, as well as his three children.
"When the Astros reached out to me to participate in this weekend, I said yes right away. I train every day so I'm ready to play," Taveras said. "And as far as this clinic, I've worked with kids on my son's team and I think I get more out of it than they do. Kids are incredible. Anyway I can help I will. I think the joy comes to us."
Taveras is not kidding when he says he's ready to play, as he's still suiting up as a member of the Sugar Land Skeeters, an independent league team in Texas.
Francis and Taveras were teammates with the Rockies. This is the southpaw's first time to Cooperstown since a family trip from their home in Canada 30 years ago.
"Cooperstown is special for me. It's an honor to be asked to do be involved this weekend," Francis said. "But then for my kids to be able to come and see me put on a uniform again is a thrill."
Francis, 38, made the trip with his wife, three kids, ages nine, seven and four ("They all swing left and throw right"), and his mother-in-law.
"It was a wall of cards – it had several hundred cards – and it was really a display. It didn't talk about baseball card collecting, it didn't talk about the manufacturing, it didn't talk about the design. It was just a wall of cards. After listening to the comments from our visitors, we wanted to do it in a way that is more interesting and engaging than simply having a wall of cards.
---
Bill Francis is the senior research and writing specialist at the National Baseball Hall of Fame and Museum