2018 Hall of Fame Classic
Donate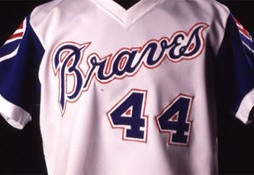 We need your help to preserve priceless treasures housed here in Cooperstown. Make a gift today to help ensure that fans around the world can have online access to the Museum collections and Library archive.
Join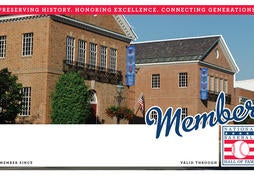 As the keepers of the Game's history, the Hall of Fame helps you relive your memories and celebrate baseball history.
"A lot of guys deserved it today, a lot of guys had good games, but to be the one that gets the award is nice," said the 37-year-old Victorino, who played center field on this day after a dozen seasons roaming big league outfields. "What makes it fun for all of us is all these guys … coming out here, enjoying it, and playing for fun. I think at the major league level it gets to that point where it becomes a job and a career. Sometime you've got to have fun. Coming out here we had a blast. It was so fun to be out here."
Victorino also made mention of a special fan in the announced crowd of 5,005, his son Kingston.
"My son was little when I played and knew I played baseball but really didn't grasp it," Victorino said. "Now that he's seven he's playing sports more, so it's surreal to be able to come out here and actually play in front of him and actually have him feel that daddy worked hard and daddy's not just the guy that sits on the couch now.
"Coming into the game I just wanted to have fun. I told myself not to embarrass myself. My wife and I and the kids talked about daddy going out there and have fun and don't hurt yourself. To win this award means a lot and hopefully I'll come back and keep enjoying this."
The seven-inning exhibition game, which featured recently retired players from all 30 major league franchises, saw former big league hurlers Steve Woodard (winning pitcher), Kevin Gross, Ryan Rowland-Smith and Jason Frasor combine for a three-hit shutout for Team Knucksies. Besides Victorino, an offensive leader on his victorious team included A.J. Pierzynski with two hits and a run. Jeremy Guthrie, the starting pitcher for Team Wizards, gave up five runs in four innings and took the loss. The game's only extra-base hit belonged to Casey Job, a SUNY Adirondack student who slugged a double for Team Knucksies.
Before the Hall of Fame Classic Game, a Home Run Derby took place with eight players, the finals of which featured Clint Barmes, A.J. Pierzynski and Victorino. In the last round, each of the trio had five swings, with Pierzynski's three out of the park coming out on top for the title.
When asked for his thoughts after his winning Home Run Derby performance, Pierzynski seemed excited but exhausted.
"I was tired," the 41-year-old Pierzynski, a veteran catcher of 19 major league seasons who retired after the 2016 campaign. "I was breathing pretty heavy and my legs were feeling it just because I haven't swung at all in so long. You forget how hard it is to do this, then when you get out there, even if it's just batting practice, it wears you down.
"I've been wanting to get here but just never had the opportunity," said Barmes. "Obviously with playing and being at home in the off-seasons it just didn't work out. But getting this opportunity, and what an honor to represent the Rockies and to be here with these other ballplayers, a lot of faces I'm pretty familiar with, that I know, that I played against, played with. And obviously to be here and to see the history, this is pretty special. I couldn't be happier to be here."
Infielder Kelly Johnson also seemed overwhelmed, stating, "This has always been a trip planned for the future, whether it's with my dad or with my kids, so to be able to get the chance to come here it's really great. Especially being able to bring my oldest boy (8-year-old Cole). It's been really cool.
"It's funny because there are several of these kids running around somewhere between five and 14. And you're just watching them run around and you're like, 'Okay, once upon a time their playground was Citi Field or Turner Field but today it's the Hall of Fame in Cooperstown.'"
A busy Saturday got off to an early start with the National Baseball Hall of Fame and Museum's annual BASE Race charity runs, a competitive 5K and 10K that celebrates healthy living that started and ended at Doubleday Field. The winners: 5K Men – John Raneri [16:17]; 5K Women – Brynn Cairns [23:45]; 10K Men – David Richards [32:43]; 10K Women – Lydia Dillon [45:23].
Following the Hall of Fame Classic game, the evening saw the Hall of Fame hold its fifth annual Night at the Museum program, an event where the Hall of Famers and former players involved in the Classic greet fans throughout the Museum.
---
Bill Francis is a Library Associate at the National Baseball Hall of Fame and Museum
The 2019 Hall of Fame Classic will be held Saturday, May 25 at Doubleday Field in Cooperstown, N.Y.