Jones continues farewell tour with 5-for-5, four-RBI day
The Atlanta Braves' longtime third baseman added another highlight to his 2012 farewell tour with a standout performance against the Chicago Cubs on July 3. He led Atlanta to a 10-3 win by going 5-for-5 with four RBI, becoming the first player age 40-or-older to post at least five hits and four RBI in a game.
Join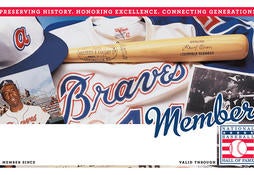 Relive your cherished baseball memories and favorite moments from your team with your personalized membership card.
Shop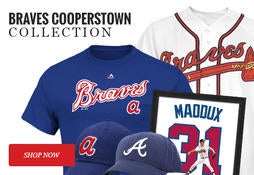 Represent the all-time greats and know your purchase plays a part in preserving baseball history.
"So it's the one ballpark I haven't played in in my career, and how fitting is it that my last All-Star game gives me the opportunity to do that," Jones said. "Looking forward to playing in a new ballpark or at least taking batting practice in a new ballpark."
Jones slowed down in the second half of 2012 but still managed to put together a successful 19th-and-final season in the big leagues, batting .287 with a .377 on-base percentage and 14 home runs.
In his first year on the ballot in 2018, Jones became the sixth member of the 1995 World Series Champion Braves to be elected to the Hall of Fame, joining Greg Maddux, Tom Glavine, John Smoltz, manager Bobby Cox and general manager John Schuerholz.
---
Janey Murray is the 2019 public relations intern in the Hall of Fame's Frank and Peggy Steele Internship Program for Youth Leadership Development