My Favorite "Once in a Lifetime" Annual Event
Join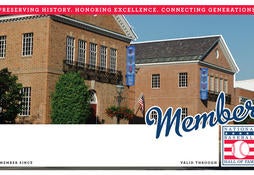 As the keepers of the Game's history, the Hall of Fame helps you relive your memories and celebrate baseball history.
Donate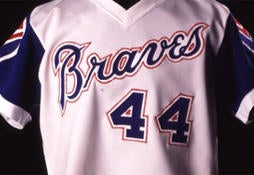 We need your help to preserve priceless treasures housed here in Cooperstown. Make a gift today to help ensure that fans around the world can have online access to the Museum collections and Library archive.
I am always blown away that Ozzie and Phil go out of their way to say hello to me during this event and thank ME for coming. Are you kidding? I am honored to be here in YOUR Hall of Fame! The big news on Friday is the announcement of the golf pairings for the tournament on Sunday, and I love the anticipation of hearing the Hall of Famers called up one by one to read the names of their teammates for golf. This year was paired with some long-time friends to play on Team Gossage. Even with Goose smiling and high-fiving his newly announced team, it is not hard to imagine how intimidating he must have been on the mound.
After the Welcome Dinner wrapped up, I headed over to the Otesaga for a night-cap with my fellow golfers. But this night was just getting started as we were joined by Phil Niekro. I believe that if Phil had not been successful as a pitcher, he could have made a great living as a comedian! I laughed so hard at his stories and jokes my sides hurt. This year, Friday night turned out to be a "once in a lifetime" experience that happens every year during Hall of Fame Classic Weekend.
Saturday's Hall of Fame Classic Game was a treat, what could be better than watching a baseball game featuring six Hall of Famers and 30 former MLB players on a sun-soaked Saturday afternoon at Doubleday Field? I am looking forward to being honored during the game in the year when I reach my 30th Anniversary as member – that group is recognized each year on the field in between innings for their long-standing support of the Museum. For those participating in the golf tournament, we followed the game with a behind-the-scenes tour of the Hall of Fame archive. Each year we see different items from the Museum's massive collection. The highlight this year was a catcher's mask worn by Moe Berg, a back-up catcher who served as spy for the US during World War II, just another amazing story from our National Pastime.
Saturday evening brings Night at the Museum, a special event where all of the players who participated in the game along with the Hall of Famers are stationed throughout the Museum. It is an opportunity to talk with them, shake hands and get a photo. It is a family friendly event and I think the players enjoy the event as much as those in attendance. Night at the Museum is the perfect ending to a perfect day!
The golf tournament begins on Sunday morning. I am always a little nervous for the first few holes, hoping that I am going to hit the ball well that day. Goose had me and the rest of the team feeling at ease within a hole or two, and we all felt good that he can just flat out crush the ball, winning the long drive contest for the tournament! Our team finished third, but really everyone participating is a winner. Golfing on the beautiful Leatherstocking Golf Course with a Hall of Famer is an experience that you can only have in Cooperstown.
So if you are planning your first trip to Cooperstown or if you come every year, Hall of Fame Classic Weekend is truly a "once in a lifetime" experience that you should add to your calendar!
---
Kerry DeMarco has been a Museum Member since 2000. He lives in Erie, Pa. where he recently retired after serving 30 years as a special education teacher and administrator for the Erie School District.