In 'Toon with Baseball and Politics
Written by: Matt Rothenberg
Baseball and politics intersect in many fashions, and no doubt one is that each field has its share of arguments – heated ones, sometimes. Political disagreements may eventually find their way into a cartoon, usually a small canvas for an illustrator or artist to describe these situations to a wider audience. Baseball sometimes is included as something to help readers better understand the subject.
In an 1897 issue of Judge, one cartoonist, Victor Gillam, used baseball to depict arguments among senators during a tumultuous session of Congress. Titled "The Kickers," using an old expression for those who argue or complain with the umpire, Gillam's piece features Uncle Sam as an exasperated arbiter who is surrounded by the truculent senators. President (or "Captain") William McKinley, Secretary of State John Sherman, House Speaker Thomas Reed, Iowa Senator William Allison, chairman of the Senate Republic Conference, and Maine Congressman Nelson Dingley, Jr., who introduced the legislation as the chairman of the House Ways and Means Committee, all remain nearby, helpless to control the situation and wondering what the fuss is all about.
Editorial cartoons have their origins in 18th-century England, where the art form soon gained notoriety with improvements in wide-scale printing and lithography. Magazines such as Punch, which covered English politics – often using humor and satire – allowed cartoonists to create works that could provide new angles on various political subjects. In the United States, 19th-century publications such as Judge and Puck gave the same opportunity to American illustrators. These opportunities led to cartoonists, a prominent example being Thomas Nast, to receive great renown and wield significant influence.
What is the cause of all this commotion? The banner atop the grandstand's turreted roof proclaims this to be "The Senatorial Protection Tariff Game." Protectionism is an economic policy where international trade is restrained using, for example, tariffs on imports, quotas, or other regulations. It may – though not necessarily – encourage more balanced competition between imports and domestic goods. McKinley, a Republican who ran for President in 1896 with protectionism on his platform, was looking to raise tariffs on many foreign goods. A Republicans sweep of Congress ensured he might have his way.
However, there was a great amount of discord, some of it coming from McKinley's own party. Among the Republicans were a faction known as the "Silver Republicans." This group, which split from the main Republican Party in 1896, consisted of center-left-leaning politicians primarily from the western states.
While the other Republicans, including McKinley, were interested in maintaining the gold standard, the Silver Republicans insisted on "Free Silver," an inflationary policy allowing silver to be coined and used alongside gold. Such sentiments encouraged the Silver Republicans to back Democratic Party candidate William Jennings Bryan in his unsuccessful 1896 presidential bid.
Many prominent Silver Republican senators are depicted in "The Kickers," including Utah's Frank Cannon, Montana's Lee Mantle, Colorado's Henry Teller, and South Dakota's Richard Pettigrew. The Silver Party, centered in Nevada and also supporting "Free Silver," is represented in the cartoon by Nevada Senator William Stewart.
Southern Democrats also got fired up about the tariff debate. Supporting Bryan and the "Free Silver" movement, they allied against the establishment Republicans to prevent higher tariffs. Among the Democratic Senators in the cartoon are Missouri's George Vest, South Carolina's Ben Tillman, Alabama's John Morgan, Virginia's John Daniel, Texas' Roger Mills, and the "Boss Kicker," Arkansas' James Jones.
The 1897 debate over the tariff followed a particularly divisive 1894 battle. The Wilson-Gorman Tariff Act, passed in 1894, featured an income tax struck down by the United States Supreme Court the following year. It also slightly reduced tariff rates from the previous tariff act.
During the spring of 1897, after passing through the House and being sent to the Senate, the legislation underwent careful examination. By the time it was passed by the Senate, on July 7, there were over 800 amendments, and a few weeks later, it was signed into law. Taxes were once again applied to wool and hides, and they were increased on wool products, linens, silks, and sugar. Not only was it the highest tariff in United States history, but it was also the longest lasting, replaced in 1909.
Even better, it now provides an excellent example of baseball being used in a political cartoon and is one of many housed at the National Baseball Hall of Fame.
Matt Rothenberg is the manager of the Giamatti Research Center at the National Baseball Hall of Fame and Museum
More Short Stops
Library Resources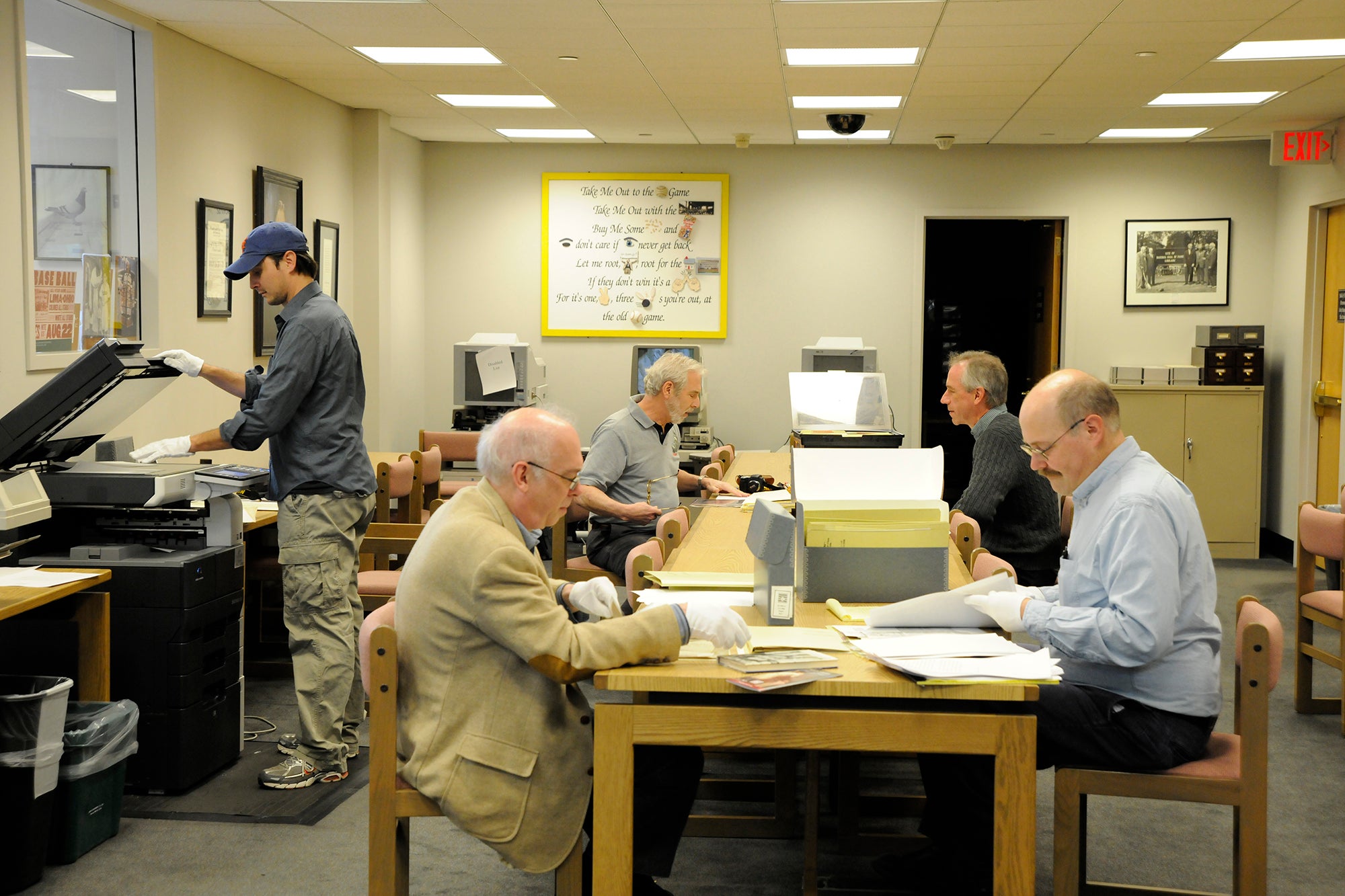 Visit the Giamatti Research Center
Schedule a research visit or contact us for research help in the library and manuscript/photo archives.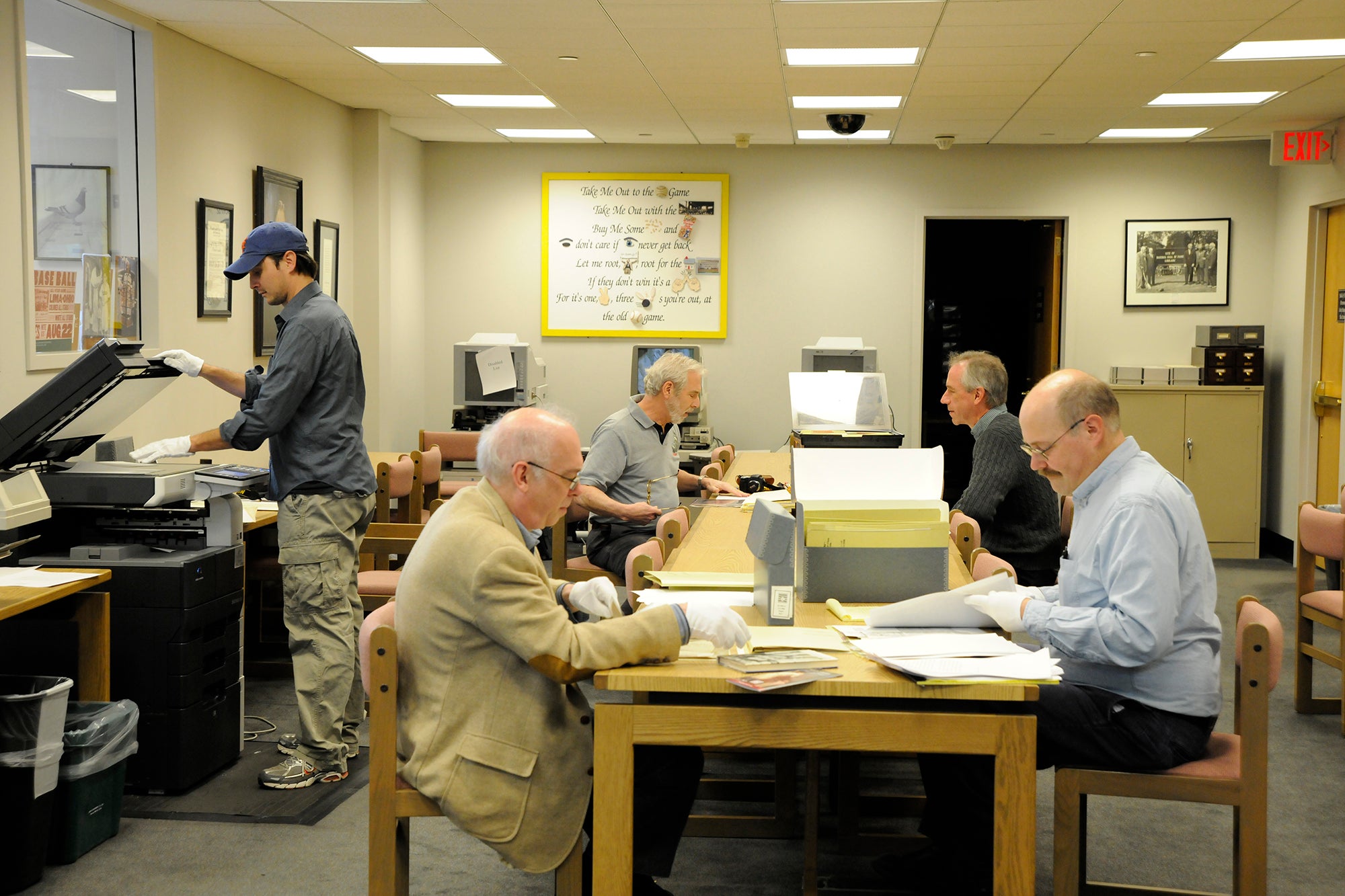 Visit the Giamatti Research Center
Schedule a research visit or contact us for research help in the library and manuscript/photo archives.
Contribute to the Collection
Donation of collections and individual items to the library are encouraged, and a Library Acquisitions Committee meets frequently to assess proposals. Inquiries regarding the donation of library-related material may be directed to the Giamatti Research Center.
Support the Hall of Fame