#CardCorner: 1973 Topps Rich McKinney
Hall of Fame staffers are also baseball fans and love to share their stories. Here is a fan's perspective from Cooperstown.
With few exceptions, I enjoy the cards featured in the 1973 Topps set. With its simple design, preponderance of action shots and that groovy-looking shadow figure transposed against a colored circle, 1973 Topps has a look and feel that has made it popular with collectors. Yet that doesn't mean that every card in the set is attractive in a logical or traditional way.
An example can be found in the Rich McKinney card. As you can see, the former big league third baseman was one of the wilder looking athletes of the 1970s. He had a large chin, one that was reminiscent of actor Bruce Campbell and comedian Jay Leno in today's popular culture. McKinney also had long, curly hair – a 1970s perm that some cultural observers have nicknamed the "white Afro."
In order to accommodate the fact that he had been traded from New York to Oakland during the winter, an artist at Topps airbrushed a strangely shaped green helmet onto McKinney's head, and included green sleeves and gold piping on the jersey. There is something a bit unusual about the style of uniform that Topps chose to airbrush. For some reason, the Topps artist airbrushed Oakland's old sleeveless jersey onto McKinney, rather than the new pullover jersey that the A's had adopted in 1972.
Donate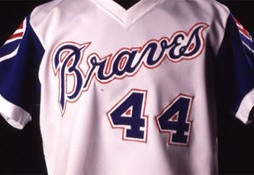 We need your help to preserve priceless treasures housed here in Cooperstown. Make a gift today to help ensure that fans around the world can have online access to the Museum collections and Library archive.
Join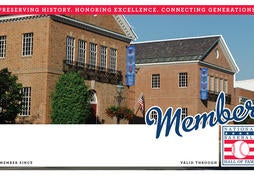 As the keepers of the Game's history, the Hall of Fame helps you relive your memories and celebrate baseball history.
When you couple the airbrushing with McKinney's prominent chin and curly hair, you have one of the more unusual looking cards of the era. The card is one of the reasons why McKinney remains known to collectors. And it's a card that I happen to love for all of its weirdness.
Unless you are a collector, it's quite possible that you have little to no memory of Rich McKinney. That's because his career lasted only for a fleeting few moments in the grand scheme of baseball's historical timeline. But there's more to McKinney than being a journeyman player who didn't quite live up to expectations.
McKinney's journey, and how he ended up in Oakland for the 1973 season, is worth exploring. As a high school senior, McKinney suddenly became ill with a high fever, lost 40 pounds and nearly died. At one point, the doctors suspected that leukemia was the cause but later ruled out that diagnosis. The doctors never did pin down what McKinney had contracted.
After starring initially as a catcher during his high school years, McKinney was converted to shortstop in college; it was a position with which he never felt completely uncomfortable. In spite of the position change, the Chicago White Sox made McKinney their first-round pick (14th overall) in the 1968 MLB Draft. As a first-round pick, he seemed like a blue chip talent destined to become a star for the White Sox. But the Sox continued to tinker with his position in the field. During his first minor league season, they moved him from shortstop to center field.
Within two years, he arrived in Chicago. Called up in the middle of the 1970 season, he made his major league debut on June 26. Rather strangely, he played third base, a position that he had never played previously. In total, McKinney played in 43 games as a third baseman and shortstop. For the most part, he was blocked by two capable veterans: Beltin' Bill Melton at third base and Hall of Famer Luis Aparicio at shortstop. McKinney also didn't hit much, so his future in Chicago seemed murky.
In 1971, McKinney remained in a utility role, but he hit well and earned more playing time. The Sox no longer used him as a shortstop, but found time for him at third base, second base and the outfield. In particular, McKinney expressed gratitude for the move to the outfield – and for not having to play shortstop anymore.
"I don't believe I have the ability to play shortstop in the major leagues," McKinney said as part of a brutally honest assessment to the Sporting News. "I just don't have the range and I don't do too well with the pivot. They had Luke Appling work with me, but I don't feel that's the spot for me. I'm in the right place now: The outfield. You don't have so many different plays to worry about out there and, therefore, can concentrate more on your hitting."
McKinney's offensive numbers supported the claim that the shift in positions had made it easier for him for hit. For the season, he batted .271 with eight home runs, and he posted an OPS of better than .700. As a pinch-hitter, McKinney performed at a superhuman level. In 19 pinch-hit at-bats, he delivered 11 hits, good for a .579 batting average. All in all, McKinney's improved hitting caught the eye of White Sox management, along with scouts for other teams.
McKinney's hitting drew plenty of praise from his manager, Chuck Tanner. "Oh, McKinney, he's something else," Tanner gushed in an interview with Jerome Holtzman. You just put his name in the lineup and he'll hit .300 for you. He's a natural born hitter."
As much as Tanner liked McKinney's hitting potential, he struggled to find him regular playing time. With Melton entrenched at third and reliable Mike Andrews ready to play second base, McKinney remained blocked from everyday duty. That winter, some Chicago writers speculated about a trade. Rather than trade Andrews or Melton, why were slightly older, the White Sox decided to trade McKinney. After the 1971 season, the White Sox sent him to the Yankees for veteran right-hander Stan Bahnsen.
Almost from the start, the deal was panned by Yankee fans. They didn't know much about McKinney. While McKinney had excelled in a pinch-hitting and backup infield role for the '71 White Sox, he had never been an everyday player and had never exhibited the defensive skills needed to play third base on more than a part-time basis. For this, the Yankees parted with Bahnsen, a reliable starter who filled a vital role as the team's No. 3 starter behind Mel Stottlemyre and Fritz Peterson. (Yankee fans would become even more upset with the trade in 1973 when Bahnsen won 21 games for the White Sox.)
Yankee fans also became concerned when they heard about an incident involving McKinney. While playing Winter Ball in Puerto Rico, where he hoped to gain experience as a third baseman, McKinney attended a beach party. He suffered third-degree burns on his ankle, the result of coming into contact with a charcoal fire.
The burns were so bad that McKinney said his foot looked like "pizza." Unable to sleep for three straight nights, McKinney finally went to the hospital, where a doctor removed the damaged skin. For the next two weeks, McKinney stayed in bed.
Still, Yankee management had high hopes for McKinney. They expected McKinney to fill the third base void that had been created five years earlier by the trade of Clete Boyer to the Atlanta Braves. Ever since, the Yankees had been searching for a quality third baseman. They felt that McKinney would end the search. In short, the Yankees considered McKinney their marquee acquisition of the offseason.
To the surprise of few, the Yankees cut ties with McKinney after the season. In December, they announced that McKinney would be heading to the Yankees as the player to be named later in the trade that sent Matty Alou to New York. Just one year after being the Yankees' most heralded acquisition, McKinney was now an ex-Yankee. Topps now scrambled to take a pre-existing photograph of McKinney and airbrush the A's' green and gold colors over the existing Yankees uniform.
McKinney was thrilled by the trade. He had always dreamed of playing for a West Coast team, and now had that chance. He was also joining the defending world champions, who had just defeated the Cincinnati Reds in a seven-game World Series.
Believing in McKinney's bat the way that Tanner once did with the White Sox, the A's found room for McKinney on their Opening Day roster in 1973, using him as a fill-in infielder, outfielder, and occasional DH. McKinney took a liking to the new DH rule, which he compared to being a "field goal kicker in football."
The A's hoped that McKinney would provide some punch off their bench, but he batted only .245 in a reserve role. By July, he was back in Triple-A, only to be recalled in September. McKinney was not included on Oakland's postseason roster.
Other than brief stints with the A's in 1974 and '75, McKinney spent most of the next three seasons at Triple-A Tucson, where he hit for both average and power. No longer considered a prospect, McKinney considered retiring from baseball and opting for a job with a trucking company. Then out of the blue, he received a phone call from Oakland owner Charlie Finley, who urged him to report to Spring Training in 1977 and promised him a real chance at playing under new manager Jack McKeon. Sure enough, McKinney made the Opening Day roster and spent the majority of the season in Oakland. He batted only .177 but did hit six home runs, his best output since 1971.
Now 30 years old, McKinney decided to retire. He became a professional truck driver for a few years before changing course and running a farm with his father. After that, he took a job with Panasonic, working in their manufacturing division.
Although McKinney's playing career became a disappointment, he did leave some vivid impressions with his personality and behavior. Teammates nicknamed him "Orbit," a label that he earned for being aloof and offbeat. (Hey, when you make four errors in a game, it helps to be a little offbeat.) McKinney happened to share the nickname with former Kansas City Royals and Seattle Pilots outfielder Steve Hovley, one of the most memorable of Jim Bouton's strange cast of characters from Ball Four.
It's too bad that McKinney isn't an active player today. His refreshing honesty would make him a popular presence on social media. I imagine he'd have some funny stories, too, about his short but tumultuous career in baseball. Additionally, he might have a few honest thoughts about his unusual 1973 Topps card, which first hit stores some 45 years ago.
---
Bruce Markusen is the manager of digital and outreach learning at the National Baseball Hall of Fame