#CardCorner: 1979 Topps Jim Hunter
Hall of Fame staffers are also baseball fans and love to share their stories. Here is a fan's perspective from Cooperstown.
If Marty McFly and Doc Brown showed up in my driveway tomorrow with the DeLorean, my destination choice would be an easy one.
Not a legendary game. Not a historic date. Not even a specific day that I can recall.
But the year would be 1979, sometime in the spring. And I'd travel back in time to find out why the heck I didn't buy more Topps baseball cards that year.
Recognition Opportunity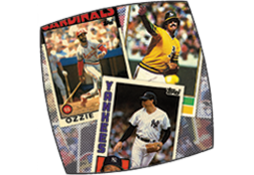 Receive a baseball card autographed by a Hall of Famer with a gift of $1,000 or more. Your choice of Rollie Fingers, Goose Gossage or Ozzie Smith.
Recognition Opportunity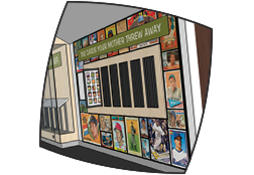 Have your name listed on a plaque on one of the high-capacity card drawers within the Shoebox Treasures exhibit with a gift of $5,000 or more. Also includes autographed baseball card and name listed on exhibit credit panel.
Oh, there are clues. Take No. 670, featuring Jim "Catfish" Hunter of the Yankees – a perfectly representative card from that set. Hunter is posed on what looks to be a back field during Spring Training, with a cloudless blue sky behind him.
But something about this layout simply didn't work.
Maybe it was the strange blue font in the letters of his name. Or the fact that Topps changed the color of those letters on different cards that year.
Maybe it was the prominent Topps logo in the lower-left corner, the only time that decade that Topps put their brand on the front side of the card.
Or maybe it was that the year before, Topps had produced the best set they ever would: With the simple black, block-letter namelines, the cool script team names and the positions listed inside a baseball. Not to mention the awesome red-white-and-blue shield logo for all-stars and the orange-and-blue presentation on the reverse.
I probably have about half as many 1979 Topps cards as I do from '78, which was the first year I began collecting.
Oh, well, at least the photo on the 1979 Jim Hunter card was better than the 1978 offering. Shown in action in '78, Catfish looked like some middle-aged guy in pinstripes – not a future Hall of Famer who might have been the best American League starter of his era.
If it's possible for a Hall of Famer to be underrated, Hunter fits the bill. He was the ace of an Oakland A's team that won an incredible three straight World Series titles – taking the series to the maximum number of games in four of those six postseason matchups.
In those three seasons, Hunter went 7-1 with a save in 13 postseason games, posting a 2.24 ERA.
Following the 1974 season, Hunter filed a grievance against A's owner Charlie Finley, claiming Finley did not honor the terms of his contract. An arbitrator ruled in Hunter's favor, declaring him a free agent.
Within weeks, a massive bidding war erupted for Hunter's services. When it was over, Hunter signed a five-year deal with the Yankees worth an astounding $3.2 million – establishing that a market for free agents would exist.
Within a year, free agency was born from the McNally/Messersmith decision and the average salary for players skyrocketed.
And it was Hunter who showed it was all possible.
The 1979 card would be Hunter's last official one for Topps, though you can find 1980 Topps cards featuring Hunter that were made about 30 years later. But since he had announced prior to the 1979 season that he would retire when his contract expired, Topps saw no reason to print a card for Hunter in 1980.
Too bad, because 1980 was the year I really fell in love with baseball cards. The pennant-style banners for each position, the return to black, block lettering for the name and the simulated autographs make it one of the most recognizable years for Topps.
It was also the last year of the Topps monopoly. Starting in 1981 – with the launch of Fleer and Donruss – things would never be quite the same.
So the 1979 set may not have been the greatest, having fallen between two better press runs. But it was still Topps.
The magic will never leave the cardboard.
---
Craig Muder is the director of communications for the National Baseball Hall of Fame and MuseumFor the first time in the Museum's history we will take a comprehensive look at the history of baseball cards, collecting and the connection generations of fans have had to these Shoebox Treasures. We are in the midst of a public campaign to "get us home" and make Shoebox Treasures, the name of this exciting new exhibit, a reality. Will you consider making a one-time gift to help us reach our goal?

You can donate at www.baseballhall.org/shoeboxtreasures to help ensure that Shoebox Treasures will open in 2019.