2017 J.G. Taylor Spink Award Winner Claire Smith
It takes a toll. I watched female reporters day after day, just standing up again if they were knocked down and saying, "I love what I'm doing so I'm going through that door again and I'm going to keep going through that door because nobody is going to stop me from doing what I love."
Claire Smith, on being the first female recipient of the J.G. Taylor Spink Award
HALL OF FAME:
What were your thoughts when you heard the news of the Spink Award honor?
CLAIRE SMITH:
I was blown away. Obviously I knew that there was an announcement coming and I was honored just to be considered with two glorious friends. I sat next to Juan Vene for eight years at Yankee Stadium and learned so much from him. And I've admired Jim Reeves forever. So just to be nominated with them was a victory in itself. But to win and have the announcement in the room with 100 or my peers was just amazing. To say that I shed a few tears is an understatement. It was just one of the most special moments in my life, absolutely.
Hall of Fame Weekend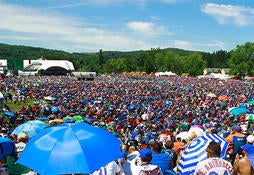 Make your childhood dream a reality. Your memories come to life as we celebrate the Class of 2017 with over four dozen Hall of Famers.
Join
As the keepers of the Game's history, the Hall of Fame helps you relive your memories and celebrate baseball history.
HOF:
Can you talk about where you were when you received the news?
CS:
It was announced during the Winter Meetings' general gathering of the Baseball Writers' Association. It was announced by Jack O'Connell (the BBWAA's secretary/treasurer) and it was the first bit of business after calling the meeting to order and taking the roll call. The writers, my wonderful, wonderful peers, gave me a standing ovation, which completely undid me. And then I was asked to say a few words and I stumbled through. But I also asked my fellow female writers to come up front and stand next to me because that's what we do. We stand shoulder to shoulder. And we represented all the women who went before us and who are coming up behind us. I thanked them and we, in turn, thanked the gentlemen in the room because they as a group and so many individually have always stood at our side as well. It was just very warm and wonderful.
And to be on the list with the past winners, to be with Mr. (Wendell) Smith and Mr. (Sam) Lacy, Mr. (Murray) Chass, my mentor, my hero, and Bob Elliott, and just on and on, Larry Whiteside, my dear, dear, dear, dear, dear friend, Bill Madden, who I shared a press box with for almost three decades. I wouldn't have dared write that script. I couldn't imagine that. My favorite question, as I say often, is "Why?" And I probably will keep asking that question about today. The writers probably have a lot of answers to that question, and I'm not going to question their answers, but I certainly will keep asking myself why. And I guess my answer would be I'm blessed. I feel blessed.
HOF:
How about being the first female recipient of the Spink Award?
CS:
I know that there were so many women before me who bore more of the brunt of being pioneers, of being bruised and battered emotionally, of kicking in the doors, breaking the glass. You know what it reminds me of? The old saying about Fred Astaire and Ginger Rogers. Fred Astaire was amazing and so was Ginger Rogers, only Ginger did what Fred did dancing backwards with high heels on. That's what I think of when you have to carry that extra burden.
As my dad use to say when discussing race: "You have to prove what you aren't before you prove what you are." It takes a toll. And I watched my fellow female reporters day after day, year after year, decade after decade, wave after wave, just standing up again if they were knocked down and saying, "I love what I'm doing so I'm going through that door again and I'm going to keep going through that door because nobody is going to stop me from doing what I love." I love to write so to be applauded for doing what I love, that's pretty … don't tell them that I would have done it for free because the newspapers will come back and demand their money. (laughs) That's my little secret.
---
Bill Francis is a Library Associate at the National Baseball Hall of Fame