#Shortstops: Give him a hand
Hailey's story is reminiscent of another similar account, illustrated by a much more rudimentary prosthetic which has been in the Museum's collection since 1944.
Ernest L. Blystone, a young man from Ardara, Pa., donated his prosthetic hand to the Museum as an example of the ingenuity and perseverance of one who struggled with a physical challenge but who did not let it define his everyday life.
Shop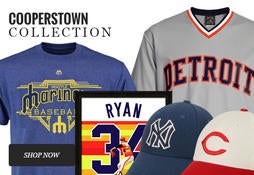 Represent the all-time greats and know your purchase plays a part in preserving baseball history.
Join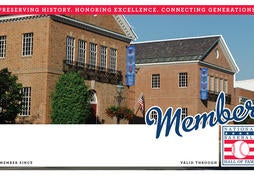 As the keepers of the Game's history, the Hall of Fame helps you relive your memories and celebrate baseball history.
As reported in the September 1933 edition of The Editor, a publication dedicated to penmanship and business education, he broke the existing record of 400 letters by writing 1,200 letters on a rice grain. Later, he set another record by etching 1,615 letters on a single grain. Blystone finally succeeded in inscribing 2,871 letters on a single grain of rice by writing the word "coin" 707 times as well as his name, address and the year. He entered into Ripley's 1932 "Believe it or Not" contest and won second prize, a Rockne Six Sedan.
Thus, in his mid-40s, Blystone traveled to the 1933 World's Fair in Chicago where he was a part of Ripley's Odditorium, a performance hall where fair visitors paid a fee to see the odd and entertaining. "Bly the Rice Writer", as he was called, was joined by many unique colleagues. An article in the Washington Post from Dec. 31, 1933, made mention of a woman with hair that was seven feet long, a man who spoke without vocal cords and an unfortunate soul who could pop out his right eye.
Blystone succeeded in several more accomplishments in his microscopic writing career, including writing three lines of lettering on a human hair and ultimately conquered his own record of 2,871 letters by inscribing 14,164 letters onto a single grain of rice. One cannot help but admire Blystone for his refusal to allow his injured hand to stop him from doing the activities he loved and excelled at – whether it was playing baseball or scratching letters on a grain of rice, two hobbies that could not be more different.
---
Kayla Shypski is the collections coordinator at the National Baseball Hall of Fame and Museum