4 Things Everyone Should Discover in the Museum
The nostalgia of the hits, home runs and games played years ago lives on at the National Baseball Hall of Fame and Museum. Although the famous bronzed plaques of inductees attract thousands of visitors every year, they're just one of the many reasons people travel from all over the country and the world to visit Cooperstown.
While fans relish the opportunity to see historic uniforms and equipment, it doesn't take a diehard fan to enjoy what the National Baseball Hall of Fame and Museum has to offer. If you're visiting for the first time and you're not a huge baseball fan, don't worry – records and stats aren't the only things you'll find on your trip to the Hall.
Visit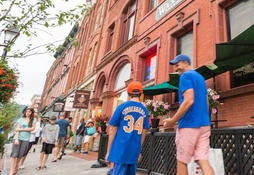 There's plenty more for a family to experience around Cooperstown.
Official 2018 Induction Gear
Represent the all-time greats and know your purchase plays a part in preserving baseball history.