#CardCorner: 1968 Topps Greg Goossen
He had to share his rookie card with a shortstop named Bart Shirley, but in 1968 he was given a card all to himself. It's a nice posed shot from Shea Stadium that shows off the bright blue pinstripes of the Mets. And it's as a Met that most of us will remember Greg Goossen.
Recognition Opportunity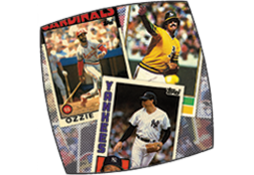 Receive a baseball card autographed by a Hall of Famer with a gift of $1,000 or more. Your choice of Rollie Fingers, Goose Gossage or Ozzie Smith.
Recognition Opportunity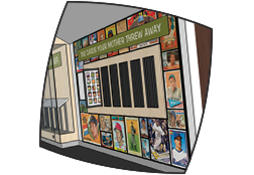 Have your name listed on a plaque on one of the high-capacity card drawers within the Shoebox Treasures exhibit with a gift of $5,000 or more. Also includes autographed baseball card and name listed on exhibit credit panel.
It was while he was with the Mets in 1965 that Goossen unwittingly provided the impetus for one of the greatest quotations every uttered by Casey Stengel. Goossen was spending his first Spring Training with the Mets, who performed their workouts and played their home games in St. Petersburg, Fla. Goossen struggled that spring, with his less-than-adequate catching skills on full display. When a Mets beat writer approached Stengel for his opinion on the young catching prospect, "Ole Case" provided the following assessment:
"This is Greg Goossen. He's 19 years old, and in 10 years, he's got a chance to be 29."
Hardly a ringing endorsement, Stengel's words provided a few chuckles during that training camp. It was the kind of remark that a manager would never utter in today's game, where managers rarely offer public criticism of players, and even more rarely issue a comically-tinged insult of a young prospect. But it was exactly the kind of remark that the brutally honest Stengel would make; he could be particularly blunt, especially in an era where managers were regarded as the boss and the players were clearly seen as their underlings.
Somehow, Stengel's putdown did not seem to bother Goossen. In fact, he loved to tell friends the story, with all of its humorous overtones, about the Stengel remark. In some ways, Goossen treated the Stengel jab as a badge of honor.
Other than his Mets uniform, Goossen's appearance on 1968 Topps is notable because of his physical appearance. With his lantern jaw, blonde hair, broad shoulders and muscular build, Goossen had the look that directors and producers in Hollywood crave. If he didn't play baseball for a living, he might have been an actor.
In fact, Goossen did become an actor, or at least sort of. Many years later, after his playing days ended, Goossen took on a career as a stand-in for legendary actor Gene Hackman, who became fast friends with the former ballplayer. While Goossen didn't really look like Hackman, he didn't have to in order to be a stand-in. A stand-in is not the same as a body double or a stunt double; he doesn't appear on camera, but is used to set up lighting and camera angles. Stand-ins just have to have similar skin tone, height, and weight to the actors in question. Goossen qualified on all counts.
Goossen became a trainer of boxers, including a young middleweight named Michael Nunn, who would become a champion in the 1980s. It was while working at the gym than Goossen first met Hackman, setting him on yet another career course.
With success in several areas, Goossen compiled one of the most diverse careers of any retired ballplayer. As a reward for his varied career accomplishments, his alma mater, Notre Dame High School in Sherman Oaks, Calif., named him to its inaugural Hall of Fame in 2011.
The school invited him to the induction ceremony, scheduled for February 26. In anticipation of the ceremony, the school asked Goossen to come out early for a series of photographs. His daughter Erin waited for him at the school, but a full 45 minutes came and went, with Goossen nowhere to be seen. Concerned about his welfare, Erin left the school and hurried to his home in Sherman Oaks. Sadly, that is where she found him, unresponsive. Goossen had suffered a fatal heart attack. He was 65.
Like many retired ballplayers, Goossen died too young. But he packed a large amount of living into his 65 years. Even if you don't remember him as a player, his name should come to mind the next time a Gene Hackman film comes on TV. If you're watching one of Hackman's better offerings, you might just get a glimpse of the guy who was once 19 and did a lot more than just turn 29.
---
Bruce Markusen is the manager of digital and outreach learning at the National Baseball Hall of Fame
For the first time in the Museum's history we will take a comprehensive look at the history of baseball cards, collecting and the connection generations of fans have had to these Shoebox Treasures. We are in the midst of a public campaign to "get us home" and make Shoebox Treasures, the name of this exciting new exhibit, a reality. Will you consider making a one-time gift to help us reach our goal?
You can donate at www.baseballhall.org/shoeboxtreasures to help ensure that Shoebox Treasures will open in 2019.