#CardCorner: 1983 Topps Bobby Brown
Recognition Opportunity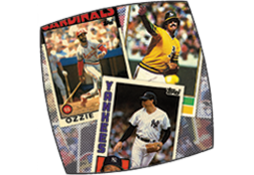 Receive a baseball card autographed by a Hall of Famer with a gift of $1,000 or more. Your choice of Rollie Fingers, Goose Gossage or Ozzie Smith.
Recognition Opportunity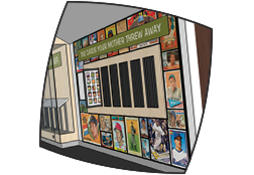 Have your name listed on a plaque on one of the high-capacity card drawers within the Shoebox Treasures exhibit with a gift of $5,000 or more. Also includes autographed baseball card and name listed on exhibit credit panel.
It's another reminder of how hard it is to hit in the major leagues; I imagine that many hitters find themselves grimacing while trying to square up a rounded bat against a rounded ball that is traveling nearly double the speed limit of an average motor vehicle.
For a relatively obscure player like Brown, hitting in the big leagues was never particularly easy. He was a terrific minor league player, an All-Star and league MVP, the owner of a batting championship, and a dangerous basestealer. But outside of one season in 1980, Brown found similar success in the big leagues elusive. Of course, that didn't stop him from having fun along the way, and gaining a newfound fan in this writer.
Brown is exactly the kind of player with whom I can identify and sympathize. His path to the majors was long and twisted, marked by so many fits and starts that his level of perseverance becomes admirable. No one would have blamed him for quitting the game, but Brown chose to keep toiling. Eventually, his patience and work ethic paid off.
Eleven years before Brown's 1983 Topps card hit the shelves, his professional career began with the Baltimore Orioles' organization. Born Rogers Lee Brown, he shared a first name with Hall of Famer Rogers Hornsby, but no one called him by that name; it was always "Bobby." The Orioles selected him in the 11th round of the 1972 amateur draft and assigned the left-handed-hitting speedster to Bluefield, their affiliate in the Class A Appalachian League. Brown struggled in his rookie stop, but showed some promise the following summer with Miami of the Florida State League. That's where Brown stole 18 bases and hit .283, albeit with little power.
In 1974, Brown started to blossom at Lodi of the California League. He batted .301 and hit eight home runs. He repeated Lodi in 1975, before finally receiving a late-season call-up to Double-A ball. The Orioles then invited Brown to Spring Training in 1976.
The Yankees brought Brown to Spring Training in 1982, but he would not break camp with the organization. Just before Opening Day, the Yankees made Brown the dreaded "player to be named" later in a trade, sending him to the Mariners to complete an earlier deal for left-handed pitcher Shane Rawley. Just like that, Brown's Yankees career was over.
With the Mariners, Brown received a chance to play when Dave Henderson went on to the disabled list in May. For the most part, Brown became a platoon outfielder, splitting his time with Bruce Bochte in left field. He stole 28 bases, but his hitting lagged behind, as evidenced by a .614 OPS. Brown returned to the Mariners' spring camp in 1983, but he did not play well, failing to make the Opening Day roster. Toward the end of March, the Mariners released Brown.
It didn't take long for Brown to find work. In mid-April, the San Diego Padres signed him to a minor league contract. After a stint at Triple-A Las Vegas, Brown earned a promotion to San Diego in midsummer. His new manager, Dick Williams, took a liking to him and used him as a sometime starter in left field and as a backup to his onetime Yankees teammate, Ruppert Jones, in center. Brown played decently in his new role, posting an OPS of .716 and stealing 27 bases.
With Tony Gwynn, Kevin McReynolds and Carmelo Martinez entrenched in the Padres' outfield in 1984, Brown became a fourth outfielder. His hitting tailed off somewhat, but he remained a threat on the basepaths and capably filled in defensively at all three outfield spots. As a team, the Padres won the National League West and the pennant, earning themselves a World Series berth against the Detroit Tigers. With McReynolds hurt, Brown took over in center field for the Series. He played in all five games, but flailed against Tigers pitching, picking up only one hit in 15 at-bats. The Padres fell short of the title, losing in five games to the more talented Tigers.
Brown returned to the Padres in a similar role in 1985, but his hitting bottomed out. He finished the season with a .155 batting average and no home runs. The Padres brought him back for Spring Training in 1986, but Williams' departure as manager signaled that a change might be coming. When the Padres acquired outfielder Marvell Wynne late in the spring, Brown approached the team's general manager, Jack McKeon. "What's the deal?" Brown asked, according to the Los Angeles Times. "Are you going to release me?" McKeon admitted that he was thinking about it, but couldn't give a firm answer.
Brown replied, "If you're gonna release me, release me now." A few days later, McKeon obliged. Brown was only 31, but he found no takers for his services. So he began life after baseball, concentrating his efforts on his company, Major League Dairies, which he co-founded with former teammate Jerry Mumphrey. Placing several franchises around the country, Brown distributed milk and dairy products nationwide.
Not much has been written about Brown since then. Like many former major leaguers who were not stars, he has become something of an obscurity, a forgotten figure. But I won't forget about Bobby Brown and how he made that summer of 1980 so wonderful.
As Brown once said, "Baseball is beautiful to me." The same could be said of Bobby Brown.
---
Bruce Markusen is the manager of digital and outreach learning at the National Baseball Hall of Fame
For the first time in the Museum's history we will take a comprehensive look at the history of baseball cards, collecting and the connection generations of fans have had to these Shoebox Treasures. We are in the midst of a public campaign to "get us home" and make Shoebox Treasures, the name of this exciting new exhibit, a reality. Will you consider making a one-time gift to help us reach our goal?
You can donate at www.baseballhall.org/shoeboxtreasures to help ensure that Shoebox Treasures will open in 2019.