#CardCorner: 1993 Topps Candy Maldonado
But that card also jumps out for two distinct reasons. First off, there is the batting glove. At first glance, it looked to me like one of those awful rubber gardening gloves my mother used to use when digging up weeds in our front yard. But upon further review, I came to realize that the photo is a bit deceptive. That's not all glove on Maldonado's right hand.
Recognition Opportunity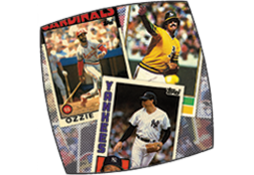 Receive a baseball card autographed by a Hall of Famer with a gift of $1,000 or more. Your choice of Rollie Fingers, Goose Gossage or Ozzie Smith.
Recognition Opportunity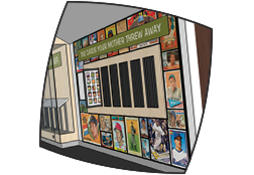 Have your name listed on a plaque on one of the high-capacity card drawers within the Shoebox Treasures exhibit with a gift of $5,000 or more. Also includes autographed baseball card and name listed on exhibit credit panel.
The bottom part of what appears to be the glove is actually a wristband. (As evidence, notice the Velcro strap at the wrist, indicating where the glove comes to an end.) With the wristband being the same color and with it overlapping the glove, it only gives the appearance of a long gardening glove.
The seemingly oversized glove and its stark whiteness also bring to mind the iconic look that the late Michael Jackson brought to the musical stage. For most of his solo career, Jackson wore a white glove on his right hand, though his glove was usually studded with crystals. In looking at the Maldonado card, we might expect that once the slugger finishes his at-bat, he'll grab a microphone from the dugout and start belting out his own version of "Thriller."
On a more serious note, the Maldonado card also reveals that the veteran slugger was one of the last players to wear a helmet without an ear flap. By 1992, most major league players wore helmets with either one or two flaps, as mandated by the rules of the day. The only players who were allowed to wear flapless helmets were veterans granted an exception because of a grandfather clause. Gary Gaetti and Hall of Famer Tim Raines were two other players from the early 1990s who continued to wear the old-style headgear. Finally retiring in 2002, Raines would become the last player to sport such a helmet. Maldonado would retire the flapless helmet in 1995, when his lengthy and well-traveled career came to an end.
One might also regard the presence of the name "Candy" on a baseball card as somewhat unusual, but it's really not. Maldonado was known by that nickname his entire career; every one of his Topps cards listed him as Candy. And he's not anywhere near the first major league player to be called Candy. In the 19th century, Candy was a fairly common nickname for ballplayers. There was Candy LaChance, Candy Nelson and of course Hall of Famer Candy Cummings.
Even into the 20th century, the Candy craze continued. In 1967, a pinch-running specialist named Candy Harris played for the Houston Astros. In 1998, right-hander Candy Sierra pitched for the Cincinnati Reds and San Diego Padres. If there were to be a little bit looser in interpretation, we might also include John Candeleria on the list; he was known for much of his career as "The Candy Man," a nickname that he shared with Maldonado.
Even the Indians took a pass on Maldonado, claiming that they wanted to go with speed and youth in the outfield. Some observers felt that Maldonado's asking price was too high. He reportedly wanted three years and $6 million, a price tag that turned off potential suitors. Other critics cited his continued over-aggressiveness in the plate; even in a good season, he walked only 49 times. For his part, Maldonado could not understand the lack of interest. "It's sad. It hurts," he told Tom Verducci of Newsday.
With the Indians choosing to go in other directions, Maldonado remained jobless throughout the winter. He finally signed a one-year deal with the Milwaukee Brewers, but it was a non-guaranteed contract. Maldonado managed to make the Brewers' Opening Day roster, but he slumped badly during his Milwaukee tenure while playing sporadically. A broken foot didn't help the situation, limiting both his playing time and his hitting. With his batting average an uncharacteristic .207, Maldonado found himself on the trading block. In August, the Brewers sent him to the Toronto Blue Jays for a minor leaguer and a player to be named later.
The timing could not have been better for Maldonado. He was joining a Blue Jays team that was attempting to win the American League East title. His new general manager, Pat Gillick, believed that Maldonado might be the antidote to an underachieving offense. "… he's certainly going to make some good contact, drive in some runs, and give our pitchers more to work with than they've had over the last few months," Gillick told the Associated Press.
Maldonado did all of that – and then some. Serving as the Jays' principal left fielder down the stretch, Maldonado posted an OPS of .821 in 52 games and helped Toronto finish off a 91-win season and a division championship. He remained the starting left fielder in the ALCS but batted only .100 as the Jays lost the series to the eventual world champion Minnesota Twins.
The playoff loss left Maldonado and the Blue Jays with unfinished business – and plenty of motivation for 1992. His career resurrected in Toronto, Maldonado again played left field, joining an outfield that already had Devon White and Joe Carter. Quietly filling a role on a team filled with stars, Maldonado hit 20 home runs and carved out an OPS of .819. The Jays won their second consecutive division title, four games better than Maldonado's former team, the Brewers.
Maldonado fared much better in the 1992 ALCS than he had in 1991. Clubbing two home runs against the Oakland A's, Maldonado piled up 12 total bases and six RBI. The Jays took the series in six games.
For the second time in his career, Maldonado prepared to play in a World Series. He didn't hit particularly well in the '92 Series, with only three hits in 19 at-bats, but his ninth inning single in Game 3 brought home the game-winning run. That victory gave the Jays a lead of two games to one over the Braves on their way to the first world championship in franchise history. After more than a decade in the major leagues, Maldonado finally had a World Series ring.
Toronto's championship coincided with another free agent season for Maldonado. The Jays would have liked to have kept the veteran outfielder and clutch hitter but were outbid by the Chicago Cubs. Unfortunately, Maldonado's readjustment to the National League did not go as planned. Platooning with left-swinging Derrick May, Maldonado batted only .186 and hit a grand total of three home runs. He would not last the season in Chicago. In late August, the Cubs traded him to the Indians for fellow slugger Glenallen Hill.
Maldonado hit decently for the Indians down the stretch but fell into a deep slump the following spring. The lack of hitting, coupled with the emergence of a young Manny Ramirez, resulted in reduced playing time for Maldonado. It was also the summer of the strike, which ended the season in August. As a result, Candy appeared in only 42 games, hitting a mere .196.
With his contract expiring and the strike lingering into the following spring, Maldonado found himself in baseball limbo. When the strike finally ended in April of 1995, he soon found work – signing a contract with his old team, the Blue Jays. With a crowded outfield featuring Carter, White, and Shawn Green, Maldonado settled into a fourth outfielder role and played well, posting an OPS of .850. But with the Blue Jays in a rebuilding phase, Maldonado became expendable late in the summer. Just before the Sept. 1 deadline for freezing postseason rosters, the Jays sent him to the Texas Rangers. Maldonado put up an OPS of .913 over 13 games, but the Rangers fell short of both the division title and the wild card.
Once again, Maldonado entered free agency. Still only 34 and seemingly capable of playing as a fourth outfielder and platoon DH, Maldonado surprisingly found no takers on the open market. Rather than try to continue his career in the minor leagues or in a foreign league, he opted for retirement.
Maldonado did not remain out of baseball for long. Always known for being outgoing and well-spoken in both English and Spanish, Maldonado embarked on a second career as a Spanish language broadcaster. He eventually joined ESPN Deportes, where he gained a reputation for insightful analysis and tough-but-fair commentary.
It's no surprise that Maldonado has found success in his post-playing days. While his early years in the big leagues were difficult ones, he eventually found his way with teams like the Giants, Indians and Jays. And he always cut a distinctive form on the field, with those strange, matching white gloves and wristbands that made him look like he was ready to do a little bit of gardening.
---
Bruce Markusen is the manager of digital and outreach learning at the National Baseball Hall of Fame
For the first time in the Museum's history we will take a comprehensive look at the history of baseball cards, collecting and the connection generations of fans have had to these Shoebox Treasures. We are in the midst of a public campaign to "get us home" and make Shoebox Treasures, the name of this exciting new exhibit, a reality. Will you consider making a one-time gift to help us reach our goal?
You can donate at www.baseballhall.org/shoeboxtreasures to help ensure that Shoebox Treasures will open in 2019.