From fan to star and back
Donate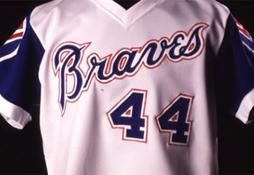 We need your help to preserve priceless treasures housed here in Cooperstown. Make a gift today to help ensure that fans around the world can have online access to the Museum collections and Library archive.
Join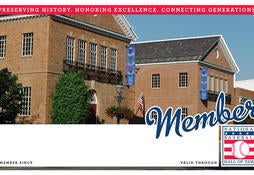 As the keepers of the Game's history, the Hall of Fame helps you relive your memories and celebrate baseball history.
Before signing with Cleveland in 1936 and stepping into this public role, Feller was a fan. Desiring a souvenir, a tangible memory of meeting the man he admired, Feller is seen in this photo from the Museum's collection standing alongside Hank Greenberg, baseball in hand, waiting for an autograph. Feller first saw Greenberg play in 1934 at his first Major League Baseball game when Feller and his father traveled to Detroit to watch the Tigers play the St. Louis Cardinals in the World Series.
One year later, Feller, a high school junior, was signed by Cy Slapnicka, scout for the Cleveland Indians, and assigned to Fargo-Moorhead, a Class D farm team of the Indians. Two years later on July 6, 1936, Feller had the opportunity to pitch the fourth, fifth, and sixth innings of an exhibition game against the Cardinals. Facing the same team he watched in the World Series, on the night before his departure for North Dakota, Feller struck out eight of the nine players. Commenting on the exhibition game, umpire Emmett (Red) Ornsby stated, "He's the best pitcher I have seen come into the American League. I don't care if he is only 17. He showed me more speed than any I have ever seen from an American League pitcher, and I don't except Walter Johnson." Feller never went to Fargo. Signed that night to Cleveland, Feller became the youngest pitcher to ever start as well as win a Major League Baseball game.
By signing with the Indians, and stepping into his own public role, Feller was no longer able to be simply a fan of baseball, or an admirer of Greenberg. Feller, overnight, was now competing at the highest level of the sport. It was necessary for Feller to his shift entire mentality regarding Greenberg, as he was now a competitor.
Greenberg, first baseman and outfielder for the Detroit Tigers from 1930-1947, achieved the sixth-highest career slugging average in major league history – and in 1947 became the first player to earn $100,000 in one season. As further evidence of Greenberg's legendary persona, in 1938, with 58 home runs, Greenberg challenged Babe Ruth's record of 60 home runs in a single season. On Oct. 2, the final day of the season, at bat against Feller, Greenberg recalled, "Feller's curve was jumping wickedly and with that and his fast ball, he was murder." Greenberg struck out in both the second and fourth innings. In the sixth inning Greenberg made contact with Feller's fast ball, driving the pitch 380 feet. Unable to clear the fence, Greenberg was left with a double, ending the season with 58 home runs. Striking out 18 men that night, Feller set a record that stood for 21 years.
---
Emily Cooper is a 2017 digital strategy intern in the Hall of Fame's Frank and Peggy Steele Internship Program for Youth Leadership Development