#CardCorner: 1968 Topps Pete Ward
Hall of Fame staffers are also baseball fans and love to share their stories. Here is a fan's perspective from Cooperstown.
In 1968, The Andy Griffith Show came to an end after an eight-year run, despite still being the most-watched television show in the country. The half-hour comedy, set in the fictional rural town of Mayberry, N.C., featured a beloved set of characters, from the bumbling deputy, Barney Fife (Don Knotts), to the scene-stealing barber, Floyd Lawson (Howard McNear), to the central figure of the show, the virtuous Sheriff Andy Taylor (Andy Griffith).
America loved those characters – and just about everything else about Mayberry.
Recognition Opportunity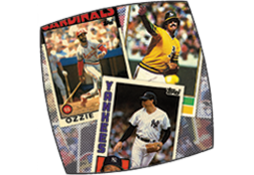 Receive a baseball card autographed by a Hall of Famer with a gift of $1,000 or more. Your choice of Rollie Fingers, Goose Gossage or Ozzie Smith.
Recognition Opportunity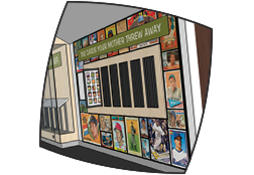 Have your name listed on a plaque on one of the high-capacity card drawers within the Shoebox Treasures exhibit with a gift of $5,000 or more. Also includes autographed baseball card and name listed on exhibit credit panel.
The same year that The Andy Griffith Show departed the CBS airwaves, the Topps Company released this card of Chicago White Sox third baseman Pete Ward. Based on his country boy appearance, young Pete looked like he would have fit in nicely on The Andy Griffith Show. With his squinting eyes, a large set of teeth, and his mouth curled into an "Aw shucks" kind of expression, Ward would have blended in seamlessly at Gomer's Gas Station, at the Mayberry Diner, or at Floyd's Barbershop, where Mr. Lawson would have regaled him with his hysterical ramblings about life, love and philosophy.
In reality, Pete Ward was not a country boy. He did not hail from North Carolina, or any part of the American South, for that matter. No, he was from the North – from Canada, to be more specific. He was born in the large Canadian city of Montreal, a place very different from Mayberry, but one that did not yet have a major league team.
The son of former NHL player Jimmy Ward, Pete and his family moved to Portland, Ore., so that the elder Ward could pursue a coaching opportunity. Pete attended Jefferson High School, located within the city limits. From there, Ward went to college, but he remained in Portland, matriculating at Lewis and Clark College. To this day, he is one of only two alumni of Lewis and Clark to make the major leagues.
Ward is one of those players who has seemingly become overlooked by the baseball mainstream. Unless you grew up with the game in the 1960s and early 1970s, it's quite possible you have never heard of Pete Ward, much less know anything of substance about him. But at one time, Ward looked like a budding Hall of Famer, a kind of Eddie Mathews in-the-making. A left-handed hitting third baseman with power, Ward put up huge offensive numbers in his first two full seasons, narrowly missing out on a Rookie of the Year Award and twice finishing in the top 10 of American League MVP voting.
And then, as with so many other players, Ward's career took a sudden and unwanted turn. He would never again match the statistics from his first two years with the White Sox. His career, as promising as it once seemed, would not even last 10 seasons. By his 32nd birthday, Ward was out of baseball. These are all reasons why Ward is somewhat forgotten today. But his story, as with so many players who faced obstacles and hardships, is worthy of a second look.
In spite of his season-long struggles, Ward was scheduled to appear on the cover of the June 7 edition of Sports Illustrated. Just before the issue went to publication, Muhammad Ali scored a quick knockout against Sonny Liston. The editors at Sports Illustrated decided to change the cover story from baseball to boxing, going with Ali's win and spotlighting what would become an iconic photo of Ali standing over Liston's fallen body. Ward never did make the cover of the weekly publication.
The Sports Illustrated decision left Ward disappointed, but it was the neck injury from the car accident that caused the real long-term damage to his career. After his falloff in 1965, Ward hit so poorly in 1966 that he lost the third base job to Don Buford and became a utility man, filling in at third, first, and the outfield corners. Appearing in only 84 games, Ward batted .218 with three home runs.
The following summer, Ward made a comeback. He returned to the starting lineup, this time in left field, and hit 18 home runs. But he also struck out 109 times, batted only .233, and saw his slugging percentage fall below .400. Clearly, he was not the player he had once been in 1963 and '64.
The 1968 season brought more of the same, including a career-low batting average of .216. By 1969, Ward was back to playing the utility man. In 105 games, he hit only six home runs.
Ward was also on the wrong side of 30. Realizing that he would never recapture his early career glory, the White Sox traded Ward that winter, sending him to the New York Yankees for pitching prospect Mickey Scott.
With his left-handed bat and power potential, the Yankees hoped that Ward might be rejuvenated playing his home games at Yankee Stadium. Even with the short porch in right field, Ward hit only one home run on the season, and that came on the road. He did bat .260 in 66 games as a utility player, but the complete lack of power proved disappointing for the Yankees.
Still, the Yankees brought Ward back for Spring Training in 1971. On March 31, just before Opening Day, the Yankees opted to release Ward. At 33 years of age, Ward's playing career had come to an end.
Ward, however, would soon rejoin the Yankees' organization. In 1972, he began a six-year stint as a minor league manager in the Yankee system, culminating in an Eastern League championship. In 1978, the Atlanta Braves hired Ward for their major league coaching staff. Two years later, he returned to the minor league ranks, at first with the White Sox and then with the Pittsburgh Pirates.
In the 1980s, Ward left baseball entirely to join the travel industry, where he successfully ran his own company for years. He is now enjoying retirement in Oregon.
While Ward's playing career saw its share of setbacks – from a career-altering injury to the last-minute elimination from the cover of Sports Illustrated – he harbors no regrets. Nearly 50 years after he played his last game, he still receives dozens of pieces of fan mail a month.
He might not be a household name anymore, but there are still plenty of baseball fans who remember that "Aw shucks" smile and that toothy grin.
---
Bruce Markusen is the manager of digital and outreach learning at the National Baseball Hall of Fame
For the first time in the Museum's history we will take a comprehensive look at the history of baseball cards, collecting and the connection generations of fans have had to these Shoebox Treasures. We are in the midst of a public campaign to "get us home" and make Shoebox Treasures, the name of this exciting new exhibit, a reality. Will you consider making a one-time gift to help us reach our goal?
You can donate at www.baseballhall.org/shoeboxtreasures to help ensure that Shoebox Treasures will open in 2019.