#CardCorner: 1988 Donruss Hubie Brooks
When Hubie Brooks totaled 100 RBI in 1985 as the Montreal Expos shortstop, he joined five other shortstops since 1950 who had produced similar numbers: Vern Stephens, Ernie Banks, Rico Petrocelli, Robin Yount and Cal Ripken Jr.
It was heady company for Brooks, who was widely acknowledged as one of the best hitting shortstops of his time.
Born Hubert Brooks on Sept. 24, 1956, in Los Angeles, Hubie grew up in Compton, Calif., and excelled as a Little League star as well as in the classroom. Drafted by the Expos out of Dominguez High School in the 19th round in 1974, Brooks instead opted to enroll at Mesa (Ariz.) Community College. Over the next four years, Brooks would be selected five more times in different MLB drafts – culminating with a No. 3 overall selection by the Mets in June 1978.
Hall of Fame Membership
There is no simpler, and more essential, way to demonstrate your support than to sign on as a Museum Member.
Official Hall of Fame Apparel
Proceeds from online store purchases help support our mission to preserve baseball history. Thank you!
By that time, Brooks was starring for an Arizona State University team that won the 1977 College World Series title – with Brooks playing outfield – and finished second to Southern California – with Brooks at shortstop – in 1978.
He was named an All-American in both seasons, hitting .432 as a senior in 1978 and setting a Division I single-season record with 126 hits.
"College ball was great, and we learned a lot of things that are very useful today," Brooks told the Herald-News of Passaic, N.J., early in his Mets career.
But while Arizona State teammate Bob Horner – who was taken with the first overall pick in the 1978 MLB Draft – went right to the big leagues, Brooks was sent to Double-A Jackson of the Texas League, where he hit .216 in 45 games.
"It was bad because I could play most of the positions, so I found myself playing infield and outfield," Brooks told the Herald-News. "It's always better to play one position."
Brooks spent most of his time at third base in 1979, hitting a combined .309 in 117 games with Jackson and Triple-A Tidewater. He returned to Tidewater in 1980 and split time between third base and the outfield, hitting .297 in 113 games.
He earned a September call-up with the Mets in 1980, batting .309 over 24 games while spending most of his time at third base. The Mets, who had a revolving door at third since their inception in 1962, seemed to have found the answer at the position.
"Now I know what my job is every day," Brooks said, "and as soon as I know the position is mine for the next few years, I'll work myself to death, not only to be the best third baseman on the Mets but one of the tops in the majors."
But the Mets brought in free agent Mike Cubbage prior to the 1981 campaign, and manager Joe Torre announced just after that start of Spring Training that Joel Youngblood would be the team's starting third baseman – seemingly leaving Brooks headed for Tidewater once again. But injuries gave Brooks the chance he needed, on April 9, 1981, Brooks was starting at third on Opening Day.
As he did throughout his career, Brooks hit the baseball – batting .344 into late May before a slump left him at .302 when the strike hit in June. But when play returned in August he found the groove again and wound up with a .307 batting average – good for eighth place in the NL race – in 98 games. He finished third in the NL Rookie of the Year voting, finishing behind super rookies Fernando Valenzuela and Tim Raines.
"He's starting to feel he belongs now," Torre told United Press International during Brooks' rookie season. "I think Hubie is going to be a fine ballplayer with us for a long time."
Brooks' 21 errors led all NL third basemen in 1981, but the Mets felt they had found a long-term answer. He battled a hamstring injury in 1982, however, and never got hot – finishing the season with a .249 batting average, two homers and 40 RBI in 126 games to go along with 24 errors.
Late in the 1982 season, Mets manager George Bamberger floated the idea of moving Brooks to the outfield in 1983.
"It's beginning to look like Ellis (Valentine) might take a walk," Bamberger told Newsday about rumors that Valentine, the Mets' right fielder, would not return in 1983. "If that happens and we can get some older guy in a trade, I'd movie Hubie to right field until Darryl Strawberry is ready."
But the Mets decided Strawberry would be ready for the big leagues by early in the 1983 season, and they kept Brooks at third base – making him the first player in team history to start at third on Opening Day for three straight seasons. Brooks hit .251 with five homers and 58 RBI in 150 games. Then in 1984, Brooks fulfilled the potential he flashed during his rookie season when he hit .283 with 16 homers and 73 RBI, playing in 129 games at third base and even manning shortstop for 26 contests.
That glimpse at shortstop – which came in the final month of the season – may have convinced the Montreal Expos to consummate a deal that would change history. On Dec. 10, 1984, Montreal acquired Brooks, Mike Fitzgerald, Herm Winningham and Floyd Youmans in exchange for future Hall of Famer Gary Carter.
"This is a good trade," Expos manager John McHale told the Associated Press. "(Carter) is happy, we're happy and the Mets are happy."
The Expos quickly signed Brooks to a three-year contract with two option years and installed him at shortstop. At 6-foot and 178 pounds, Brooks was big for the position in that era – but despite committing 28 errors, he fielded the position in an above-average manner according to advanced defensive metrics.
Offensively, however, Brooks was a revelation. He hit .269 with 13 homers, 34 doubles, seven triples and 100 RBI, earning a Silver Slugger Award and a place on the National League All-Star team.
"He can play (shortstop)," Expos manager Buck Rodgers told the Fort Lauderdale News. "And not only can he play a major league shortstop for us, but he can balance out this lineup. He's a shortstop who can carry his own offensively.
"Hubie Brooks plays offense and he plays defense."
In 1986, Brooks was one of the best offensive players in the game. By late June, he was near the top of the NL in all three Triple Crown categories. But he hurt his left thumb in early June, and though he played through the pain the injury did not heal. By August, the torn ligaments were too much to bear – and Brooks missed the final two months of the season, ending the year with a .340 batting average, 14 homers and 58 RBI. His .956 OPS would have led all NL batters had he had enough at-bats to qualify.
"He's been amazing," Rodgers told UPI, "just amazing."
With Brooks seemingly poised for a huge season in 1987, he was sidelined for six weeks with a fractured right wrist when he was hit by a pitch from the Astros' Danny Darwin in the third game of the year.
"To miss 80 games last year and turn around and have this happen, it's annoying," Brooks told the Ottawa Citizen.
He returned in late May and quickly began hitting at his 1986 level, going 5-for-5 with six RBI against the Phillies on June 12. Despite playing in just 41 games before the All-Star break, he was named to the Mid-Summer Classic on the strength of his .284 batting average, seven homers and 30 RBI. He finished the year with a .263 average, 14 homers and 72 RBI in 112 games.
Then in 1988, the Expos made the move many had advocated when they shifted Brooks to right field. The move was party to open playing time for prospect Luis Rivera but also reflected a thought that Brooks would be less likely to get injured playing in the outfield.
"I guess it's a natural move," Brooks told the Montreal Gazette prior to Spring Training of 1988. "The thing is I never really got hurt playing shortstop. I think you can get hurt any place."
But the move to right field did correspond with one of Brooks' best seasons, as he hit a career-high 20 home runs to go along with 90 RBI and a .279 batting average. Then in 1989, Brooks hit .264 with 14 homers and 70 RBI while again spending the year in right field.
With his contract now expired, Brooks became a free agent for the first time. The Dodgers wasted no time bringing Brooks back home to Los Angeles, signing him to a three-year deal worth a reported $6 million.
"When you're my age, when you've played as long as I have, winning is very important," Brooks told UPI upon signing with the Dodgers, who were only one season removed from a World Series title. "I'm happy to be here."
Brooks did all the Dodgers could have asked in 1990, hitting .266 with 20 homers, 28 doubles and 91 RBI. But Los Angeles finished second in the NL West behind the Reds, and the front office decided to make a splash in free agency – signing Darryl Strawberry and Brett Butler.
A day after the Dodgers signed Butler, they traded Brooks to the Mets in exchange for pitchers Bob Ojeda and Greg Hansell.
"I loved Hubie," Dodgers general manager Fred Claire told the Los Angeles Times. "Trading him was one of the most difficult things I have ever had to do."
The trade shocked Brooks but he quickly embraced his return to Shea Stadium, where only Ron Darling, Sid Fernandez and Dwight Gooden remained from the 1984 Mets team that was Brooks' last with the Mets. During the intervening years, Brooks had missed out on the team's two NL East titles and 1986 World Series win.
"The Mets were my team," Brooks told the New York Daily News. "I knew all those guys. I never wished anything bad on those Met teams just because I wasn't there."
His teammates welcomed him back with open arms as he replaced Strawberry in right field.
"I have never, ever seen a man hit line drives as hard as Hubie," Darling told the Daily News. "I can't explain it, either, because he's not the biggest guy you'll ever face. But his power is awesome."
But at age 34, Brooks' power was starting to wane. He appeared in only 105 games in 1991 while missing time with a pinched nerve in his right shoulder, hitting just .238 with 16 homers and 50 RBI as the Mets finished 77-84.
On Dec. 10, 1991, the Mets traded Brooks to the Angels in exchange for outfielder Dave Gallagher.
"It was difficult telling (Brooks) he'd been traded again," Mets executive Al Harazin told the Sacramento Bee.
But while Brooks would be playing for his fourth team in as many seasons, his status in the game was still undeniable.
"When I was managing in St. Louis," Angels general manager Whitey Herzog told the Bee, "Hubie was the one guy I didn't want to face in the ninth inning with the game on the line. He's been a tremendous clutch hitter."
The trade reunited Brooks with manager Buck Rodgers, who was now piloting the Angels. But after spending the first two-and-a-half months as the Angels' designated hitter, a sprained neck sidelined Brooks for all of July and August. He finished the year with a .216 batting average over 82 games, and the Angels allowed him to leave as a free agent following the season.
Brooks signed with the Royals as a bench player for the 1993 campaign and hit .286 over 75 games. He returned to the Royals in 1994 but was hitting just .230 through 34 games when Kansas City released him on July 14.
"This was tough to do," Royals manager Hal McRae told the Olathe (Kan.) Daily News. "It was a decision the organization made and I went along with it. Hubie was very special to me."
Brooks would never play in another big league game. He left baseball with 1,645 games played, the most of any active player (at the time of his release) who had not appeared in a postseason contest. In his 15 big league seasons, Brooks hit .269 with 290 doubles, 149 homers and 824 RBI.
He also left a legacy as one of the most popular teammates throughout his five big league stops.
"Hubie didn't have one enemy – Hubie was one of our cornerstones," Dodgers teammate Chris Gwynn told the Los Angeles Times. "He brought this team stability."
---
Craig Muder is the director of communications for the National Baseball Hall of Fame and Museum
Related stories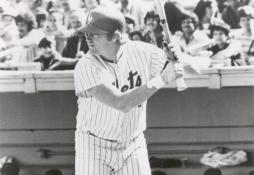 1982 Hall of Fame Game
The Mets and White Sox met in the Hall of Fame Game on Aug. 2, 1982.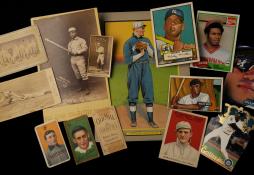 #CardCorner: 1988 Donruss Hubie Brooks
Hubie Brooks was part of a new generation of shortstops who could hit for power.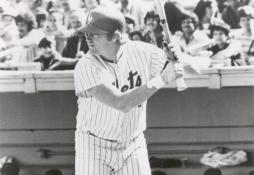 1982 Hall of Fame Game
01.01.2023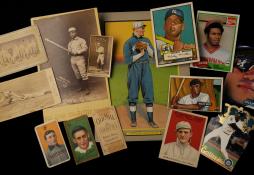 #CardCorner: 1988 Donruss Hubie Brooks
01.01.2023