Speaker's 3,000th hit puts him in record books
When a player reaches his 3,000th career hit, they're usually no longer at the peak of their game.
For Tris Speaker, the year of his milestone marked the best year ever – measured by batting average – of his stellar career.
Speaker became the fifth member of the 3,000-hit club on May 17, 1925. His third hit of the day against the Senators, a single to right-center field to lead off the ninth inning, left him credited with 3,000 for his career. Modern research revised Speaker's hit total from early in his career, meaning his 3,000th hit didn't actually occur until May 20. But newspapers around the country said otherwise, congratulating the Grey Eagle on becoming just sixth member of the exclusive fraternity.
Official Hall of Fame Merchandise
Hall of Fame Members receive 10% off and FREE standard shipping on all Hall of Fame online store purchases.
Hall of Fame Membership
There is no simpler, and more essential, way to demonstrate your support than to sign on as a Museum Member.
That math, too, was a bit faulty. Cap Anson, Ty Cobb, Napoleon Lajoie and Honus Wagner had recorded 3,000 hits. But the wire stories also listed Sam Crawford as a member of the club – and Crawford's total is now counted as 2,961 hits during his 19 big league seasons.
But whatever the arithmetic, Speaker's career was among the best the game has ever seen. And he showed few signs of slowing down. In his age-37 season in 1925, Speaker hit .3893, the top mark of his career. The only player to come close to that average in the year he recorded his 3,000th hit was Cobb, who hit .3886 in 1921 – rounded up to .389 in the record books but fractions short of Speaker's average.
"My big league career will run indefinitely," Speaker was quoted in a wire service story that ran in newspapers around the country during the 1925 season. "Right at this moment, I can't tell when the book will close. As far as I can see, it will be determined by my legs."
Speaker, who was in his seventh season as Cleveland's player/manager in 1925, was already conceding that his once fearsome speed was a thing of the past. When he recorded his 3,000th hit, Speaker removed himself from the game in favor of pinch runner Ray Knode, who eventually scored on a sacrifice fly before the Senators' Tom Zachary ended the threat and wrapped up Washington's 2-1 victory.
One of Speaker's three hits that day was a double, leaving him with 646 for his career. That was thought to be five short of Napoleon Lajoie's all-time record – though Lajoie's total has now been adjusted to 657. Speaker would pass Lajoie on the all-time doubles list later in the 1925 season and finished his career with 792 – a record that still stands.
"They (his legs) will tell the tale," Speaker said. "Not my eyes. Not the swing. They put them all out – the legs. Take Napoleon Lajoie, Hans Wagner, Sam Crawford and some of the other boys. I'll bet they could hit .300 with ease right now on straightaway hitting but they'd clog the baselines once they got on."
Speaker's legs kept him in the big leagues for another three-and-a-half seasons after his 3,000th hit. His batting average dropped to .304 in 1926 but he still totaled 96 runs scored, 52 doubles 88 RBI and 94 walks. He moved on to the Senators in 1927, where he hit .327 before finishing his career with the Athletics in 1928.
Over 22 seasons, Speaker hit .345 with a .428 on-base percentage, 1,882 runs scored, 436 stolen bases, 3,514 hits and a reputation as one of the greatest defensive center fielders ever to play the game. He was elected to the Hall of Fame in 1937.
"Find a (batting) stance that is free and natural," Speaker said about his secret to hitting. "And stick to it."
---
Craig Muder is the director of communications for the National Baseball Hall of Fame and Museum
Related Stories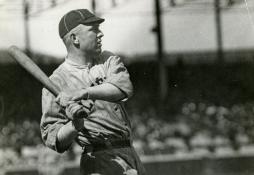 Speaker's 3,000th hit puts him in record books
Tris Speaker became the fifth member of the 3,000-hit club on May 17, 1925.