In all fairness, Appling still king of foul balls
But Belt still has a ways to go to catch the apocryphal foul ball king, Luke Appling, whose prowess with the bat launched a thousand stories.
Belt's plate appearance, which lasted nearly 13-minutes, included 16 foul balls before he flew out to right field. Belt saw a total of 40 pitches in five plate appearances this day, including 22 foul balls with a two-strike count.
The previous record – since 1988 – was a 20 pitch at-bat by the Astros' Ricky Gutierrez against the Indians' Bartolo Colon on June 26, 1998. But if the decades of tales are to be believed, Appling is likely the undisputed king of the foul ball.
Considered a true artist with a bat in his hand, Appling had a 20-year big league career, from 1930 to 1950, all spent with the White Sox. A member of the National Baseball Hall of Fame Class of 1964, he was a seven-time All-Star who finished his career with 2,749 hits, a .310 batting average, and whose 2,218 defensive games as a shortstop is eighth on the all-time list. But despite the gaudy credentials, Appling may be best remembered for his ability to hit foul balls.
Donate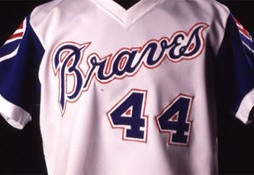 We need your help to preserve priceless treasures housed here in Cooperstown. Make a gift today to help ensure that fans around the world can have online access to the Museum collections and Library archive.
Join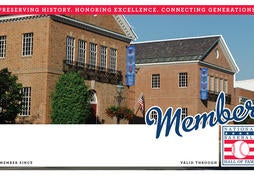 As the keepers of the Game's history, the Hall of Fame helps you relive your memories and celebrate baseball history.
"I know I made myself unpopular with the fans on the road by staying up at bat for 10 minutes while I fouled off eight, 10 or 12 pitches, and I know the hurlers didn't love me for making them work overtime," said Appling in 1948.
Chicago Tribune sports columnist Irving Vaughan was an eyewitness to Appling's tactics.
"Luke is the foulingest foul ball perpetrator of all time," Vaughan wrote in June 1947. "With him it is an art, but he can't explain logically how he does it. Pitchers like him personally because he's such a congenial soul, utterly lacking in temperament both on or off the ballfield; but one and all they have a professional hatred for him. It's enough worry for them to keep him from denting their armor with a base hit. But those foul balls! He wears out the pitchers, and makes it more aggravating with his grin and nonchalance. Trying to dust him off is no solution. He not only is too elusive but can't be ruffled by such tactics."
Appling told the Chicago Tribune in 1960 that if he was trying to get a real good pitch and the ball was just about over the plate, but a little too close, he'd just reach out and foul it off, waiting for a good one to come by.
"I don't know if I ever hit 20 fouls in a single time at bat. I wasn't counting them," he added. "Once I hit a dozen in a row off Dizzy Trout, and he got so sick and tired of it, he threw his glove at me and hollered, 'You so-and-so, let's see you foul that!' Doggoned if I didn't foul that off, too, and the umpire fined ol' Diz for throwing the glove. Then he was really sore!"
Don Kolloway, Appling's second-base partner for seven years, recalled the specific hot and muggy day at Comiskey Park in a 1991 interview with the Chicago Tribune.
"I remember it like it was yesterday," Kolloway said. "First time up, Luke fouled off six or seven pitches. Second time, he fouled off eight or nine. The third time he started doing it again. And Dizzy Trout, the sweat pouring down his face, shouted, 'Here, Luke, foul this off, too!' And Trout threw his glove at him."
Hall of Fame pitcher Red Ruffing, in a 1970 interview with the Chicago Tribune, said that "Luke just stands there and wears you out. I remember the day I slipped two strikes by, and then he just kept fouling the good pitches until he worked me for a walk. Mike Kreevich was the next batter and he cleaned the bases because I had nothin' left."
Even good friends could be on the receiving end of Appling's torturous treatment.
"My best friend was Spud Chandler – we used to go bird hunting together – and he was comin' back from an injury when I started foulin' him off, hopin' to wear him down to get a walk," Appling told the Chicago Tribune in 1982. "Finally, after 12 or 14 fouls, I got my walk and as I was goin' to first base Spud yelled, angrier 'n heck, 'Just wait 'til I get strong. I'm gonna throw the next four at your head.'
"Well, I forgot! And the next time we got to New York, sure enough – phoom, phoom, phoom! – he threw four fast ones at my head. I just ribbed him that he wasn't any closer than the last time."
Appling's unique skill of foul-ball-hitting could also be used in mischievous ways.
"I always liked to scald it into the dugout now and then, just for fun," said Appling. "Casey Stengel used to have everybody on the bench watching for my hit-and-run. With gloves on."
"We were riding Appling real hard one day," said Hall of Fame catcher Bill Dickey. "In those days we'd say mean things. Luke decided to resent some highly masculine statement, so he hit eight straight foul balls into the Yankee dugout. My, how that guy could place a ball."
Appling's vengeance could also play out against the front office. White Sox infielder Dario Lodigiani, in a 1990 interview with the Chicago Tribune, told of the spring of 1941 when Appling held out for more money.
"Luke was asking for $20,000, and all they would offer was $17,500. Luke really screamed; he wanted the 20 grand. The club won. He held out for two, maybe three weeks and then signed for $17,500," Lodigiani said. "When he reported to spring training, Luke told us, 'I'll make it cost 'em. I'll just keep fouling those balls in the stands.'
Ironically, Appling was in the news late in life for a homer he hit in a 1982 old-timers' game at the age of 75. The shot, hit off 61-year-old Warren Spahn, went into the left-field stands.
"It was a good pitch," Appling said afterward, "and I just swung away."
Appling passed away in 1991 at the age of 83.
---
Bill Francis is a Library Associate at the National Baseball Hall of Fame and Museum