Class of 2016 recalls their fathers' influence
Unlike Piazza, who was selected with the 1,390th overall pick in 1988, Griffey went first overall in 1987. The multitalented Mariners, Reds and White Sox center fielder would live up to the lofty expectations, too, the 13-time All-Star ending his 22-year big league career with 630 home runs and 10 Gold Glove Awards.
Shop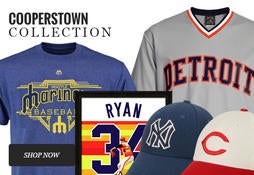 Represent the all-time greats and know your purchase plays a part in preserving baseball history.
Join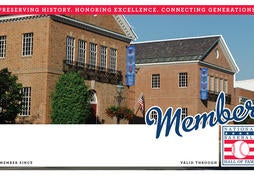 As the keepers of the Game's history, the Hall of Fame helps you relive your memories and celebrate baseball history.
With his Hall of Fame election, Griffey became the second Hal of Fame player, after Roberto Alomar, whose father also spent time in the big leagues. Slightly more than 200 father-and-son combinations have played in the big leagues, including the sons of Hall of Famers Earl Averill, Yogi Berra, Eddie Collins, Tony Gwynn, Freddie Lindstrom, Connie Mack, Jim O'Rourke, Tony Perez, George Sisler and Ed Walsh.
Ken Griffey Sr. was an outfielder who spent 12 of his 19 seasons in the big leagues with the Reds, the three-time All-Star retiring in 1991 with 2,143 hits and a .296 batting average. An important cog in the famed Big Red Machine, he helped Cincinnati to back-to-back World Series titles in 1975 and '76.
"I think one of the biggest misconceptions about my family is that we sat around the locker room and we were there all the time. We were there probably about four times a year," said Griffey in an interview with the Hall of Fame. "I didn't realize who my dad was until actually he was playing for the Yankees. I had a Yankees Starter jacket on and a kid comes to me and said, 'Your dad plays for the Yankees?' And I was like, 'Yeah.' In our family it was like no big deal. My dad plays baseball, your dad does this, your dad does that. My dad didn't come home and act like he's a superstar. He was just dad.
"There were plenty of times I didn't know if he went 4-for-4 or 0-for-4 because he was like, 'All right, what are we gonna do?' He was a dad first. The things I've learned from him are those types of things."
Although his father played big league baseball, Griffey never felt as if he was forced into the sport. "My dad was pretty cool about letting us do other things," said Griffey. "He just wanted us to be kids in the neighborhood. It wasn't, 'Hey, you're gonna play baseball,' or, 'You're gonna play football.' It's go out and play everything from soccer, to rugby and things like that. He just wanted us to be kids."
As a youngster, trying to impress a father who was often on the road playing baseball was often difficult for the future star. "It was tougher for me to hit in front of my dad than anybody," Griffey said. "You could have 40,000 people and I was fine. But you stick my dad in there … Nowadays you can get a charter jet and you can go home and see the kids. He couldn't do that. The days he would fly in I tried to kill the ball and I'd pop up or strike out.
"I remember he came in with the Braves. He comes to the game and I think I struck out twice. And he's gotta go down to the ballpark and I end up driving down after the game and he says, 'Hey, how'd you do?' I said, 'I went 3-for-5 with two home runs.' He just looked at me like, 'You couldn't do that when I was there?'
"He also had an RV and he drove to Arizona. I was there for Instructional League and he's parked behind the left field wall and he doesn't come out. I finally get a hit in front of him and he yells out the window, 'Was that so bad?' He always said, 'Pretend I'm your mom.' Mom is easy to hit in front of but dad isn't because he just wasn't there a whole lot."
In 1989, Ken Griffey, Sr. and Ken Griffey, Jr. became the first father-son combination to play in the big leagues at the same time. The pair became Mariner teammates in 1990 – also a first in major league history – and famously, on Sept. 14, 1990, in the top of the first inning off California Angels pitcher Kirk McCaskill, hit back-to-back home runs. The duo remained teammates until Griffey Sr. retired in June 1991.
"Growing up, what's every kid's dream? It's to play catch with their dad. I got to do it in the same game, on the same field with him," Griffey told the Hall of Fame. "We had a couple bets. Who got the first hit, the other person had to pay for dinner. But the other person had a chance to tie."I told him a couple things: 'For 17 years you protected me. For the next six weeks I get to protect you,' which was awesome. The one thing that really sticks out is I got to tell him what every male has been told by their dad: 'When you live in my house, you live by my rules.' Well, I said that to my dad and my mom died laughing and my dad moved out the next day. But I got a chance to say it."
A particular piece of fatherly advice still remains with Griffey decades after receiving it.
"Just looking back there's certain things that I could do that other kids couldn't do. It wasn't that I'd go around talking about it and bragging about it because again I had a dad who was like, 'Baseball gods are gonna get you. You're not as bad as you think you are and you're not as good as people say you are. So just try to stay level,'" Griffey recalled. "That's one of the things I learned growing up is to go out there and play and whatever happens, happens. Learn from your mistakes, learn from your successes, and try to build on it."
The Hall of Fame Induction Ceremony, honoring Griffey and Piazza, will be held Sunday, July 24, at 1:30 p.m. ET at the Clark Sports Center – located one mile south of the Hall of Fame in Cooperstown.
---
Bill Francis is a Library Associate at the National Baseball Hall of Fame and Museum