#CardCorner: 1978 Topps Dave Heaverlo
The third base dugout at Candlestick Park was a popular vantage point for cards in Topps' 1978 set.
It's always easy to pick out Candlestick during this era; the faded artificial turf, the metal fence, and the 375-foot marker in right field help make these dead giveaways for "The Stick," whose cold winds made it one of the least-favored parks among players of that era. Taken during actual games in 1977, these Candlestick shots not only captured several members of the San Francisco Giants (including Darrell Evans, Jim Barr and Ed Halicki), but also provided imagery for several opposing players, including Rich "Goose" Gossage, Bruce Kison and Jim Lonborg. (The Kison card has been profiled in an earlier edition of Card Corner.)
Recognition Opportunity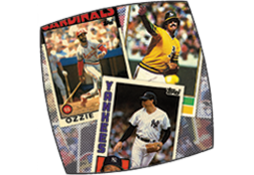 Receive a baseball card autographed by a Hall of Famer with a gift of $1,000 or more. Your choice of Rollie Fingers, Goose Gossage or Ozzie Smith.
Recognition Opportunity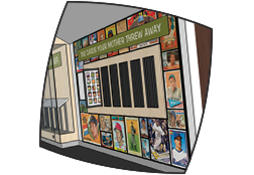 Have your name listed on a plaque on one of the high-capacity card drawers within the Shoebox Treasures exhibit with a gift of $5,000 or more. Also includes autographed baseball card and name listed on exhibit credit panel.
Among the Giants to be featured in this informal subset of cards was a relatively little known but colorful pitcher named Dave Heaverlo. A right-handed reliever, Heaverlo was perhaps best known for three things: Throwing sidearm, sporting a Fu Manchu mustache at times and having a shaved head. Only one of those characteristics is in evidence on the card. Based on the angle of his arm, we can see the beginnings of Heaverlo's sidearm/three-quarters delivery. But there is no mustache yet, and his head is still full of dark hair, which we can see popping out from underneath his black Giants cap. Heaverlo wouldn't adopt the shaved look until later, at a time when few players dared apply a razor to their scalps.
Heaverlo also became a source of debate among young fans of the 1970s. How exactly do you pronounce his last name? I and my friends had always assumed that it was pronounced HEAVE-er-loh, which was an especially apt pronunciation for a pitcher. But I heard other fans refer to him as HEV-er-loh, which was not as fun. It turns out that both groups of fans were wrong; the name is actually pronounced HAVE-er-loh, as I was informed not that long ago.
While it took a while for me to figure out how to pronounce Heaverlo's name, it didn't take nearly as long for Heaverlo to make the major leagues after being drafted by the San Diego Padres in 1972. Heaverlo chose not to sign with San Diego, leaving him available for the January phase of the 1973 draft by the Giants. This time Heaverlo did sign, enabling him to begin his professional career that spring. He would spend only two seasons in the minor leagues, making a quick ascent to San Francisco by 1975.
While his minor league tenure was brief, it was also eventful. Late in the 1974 season, Heaverlo was pitching for the Amarillo Giants, San Francisco's affiliate in the Texas League. Heaverlo and one of his teammates went to a local bar, where a fight broke out. Heaverlo and the other player tried to break up the altercation. As Heaverlo made his way toward the exit of the bar, one of the assailants fired a gun, the bullet striking Heaverlo in the left hand. Tragically, another gunshot left one of the assailants dead. In the meantime, Heaverlo was treated at a local hospital, somewhat fortunate in that he had been wounded only in his left hand, and not his pitching arm.
Once again, Heaverlo would not survive camp with his original team, this time cut loose by Seattle. It wasn't so much that Heaverlo pitched poorly in exhibition games, but rather a conflict with manager Maury Wills that resulted in his outright release from the Mariners.
This time Heaverlo completed the circuit by returning to the A's, who assigned him to Triple-A Tacoma. He later spent two stints with Oakland that year and pitched well for Billy Martin, but appeared in only six major league games.
Over the next two seasons, Heaverlo spent most of his time on the disabled list because of arm problems. Over that span, he appeared in only four games for Tacoma, but never made it back to Oakland. At the end of the 1983 season, arm trouble convinced Heaverlo that it was time to retire.
Although known as a jokester, Heaverlo also understood the art of pitching and turned that knowledge into a successful career as a minor league pitching coach. He has also become a regular at fantasy camps for the A's, where his outgoing personality often makes him the life of the camp – and the judge of the camp's so-called "Kangaroo Kourt."
Additionally, the well-spoken Heaverlo has worked as a radio host in his childhood hometown of Moses Lake, Wash., another tribute to his engaging manner and spirited sense of humor.
All these years later, Heaverlo has maintained his humor and his self-deprecating nature. He also remains without hair. No, he's not shaving his head every day. It's simply a reality of advancing age.
---
Bruce Markusen is the manager of digital and outreach learning at the National Baseball Hall of Fame
Special thanks to Marty Lurie for his assistance with this article
For the first time in the Museum's history we will take a comprehensive look at the history of baseball cards, collecting and the connection generations of fans have had to these Shoebox Treasures. We are in the midst of a public campaign to "get us home" and make Shoebox Treasures, the name of this exciting new exhibit, a reality. Will you consider making a one-time gift to help us reach our goal?
You can donate at www.baseballhall.org/shoeboxtreasures to help ensure that Shoebox Treasures will open in 2019.