Ruth a 'Giant' among Yankees
If McGraw had got his way, this photograph might be one of thousands of Babe Ruth in a Giants uniform. Instead, it's a historical oddity representing a one-time appearance.
Donate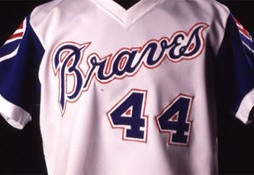 We need your help to preserve priceless treasures housed here in Cooperstown. Make a gift today to help ensure that fans around the world can have online access to the Museum collections and Library archive.
Join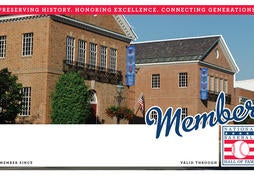 As the keepers of the Game's history, the Hall of Fame helps you relive your memories and celebrate baseball history.
This image comes from a game that the New York Giants played against the Baltimore Orioles of the International League at the Polo Grounds on Oct. 3, 1923. Scheduled on an off day, the game was played to raise money for former Giants' owner John B. Day and former Giants' manager Jim Mutrie, both of whom had fallen on hard times. Ruth was penciled into the lineup due to his burgeoning stardom and his connection to the Orioles. Perhaps more importantly, the game gave both Ruth and the Giants the opportunity to stay fresh before the upcoming World Series.
While both the New York Yankees and the New York Giants had a few more regular-season games to play after the Oct. 3 off day, both teams had already clinched their league's pennant. For the third straight year, the World Series would be an intra-city affair. McGraw and the Giants had triumphed in both 1921 and 1922, and the Yankees had yet to win a World Series championship. If the lineup that McGraw drew up for this exhibition game is anything to go by, he fully intended to claim a third straight title. Aside from Ruth, the Giants starting lineup featured all of its regulars except for catcher Frank Snyder and outfielder Ross Youngs. The defending World Series champions defeated the Orioles 9-3, an accomplishment made less surprising by the fact the Giants fielded several future Hall of Famers and were managed by future Hall of Famer McGraw.