Vin Scully's 2016 Dodgers Media Guide puts a 67-year long career into perspective
The Los Angeles Dodgers recently donated Scully's 2016 media guide to the Hall of Fame collection, complete with all of his papers, flashcards and post-it notes stuffed inside. But while Vin likes to have the information there, he doesn't necessarily use all of it.
"All that information can be a danger as well," he said to VICE. "You can be caught looking at your notes and miss a play on the field, which is a mortal sin."
The guide is 412 pages long – sans flashcards – and is rife with Scully's neon-yellow highlights inside. He notes everything from correct pronunciations (Kenta MAH-eh-da) to important dates in Dodger history (like Willie Stargell hitting the longest home run in Dodger Stadium at 506 feet). His scribblings provide a small glimpse into one of the greatest broadcasting minds of all time.
"During Vin Scully's career he saw the team media guide move from a brief document which contained a basic schedule and roster to a weighty tome of hundreds of pages which now contain a full panorama of franchise information," said Hall of Fame Library Director Jim Gates. "The 2016 copy represents a working document of the final year of his long career. It is from this copy that he pulled many of the facts, figures, and stories which entertained baseball fans across the country."
Hall of Fame Weekend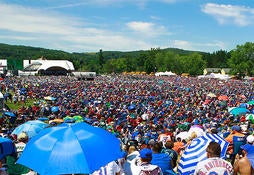 Make your childhood dream a reality. Your memories come to life as we celebrate the Class of 2017 with over four dozen Hall of Famers.
---
Alex Coffey is the communications specialist at the National Baseball Hall of Fame