Ready for the Weekend
Written by: Bill Francis
2015-07-23
With the 2015 National Baseball Hall of Fame Induction Weekend nearly upon us, those honored with bronze plaques in "America's Most Perfect Village" began to arrive on Thursday from around the country.
On Sunday, the Hall of Fame's revered Plaque Gallery will increase its membership to 310 with the induction of Craig Biggio, Randy Johnson, Pedro Martínez and John Smoltz, a quartet of the game's greatest stars from the past two decades who were elected by the Baseball Writers' Association of America in January.
Biggio, who collected 3,060 hits and scored 1,844 runs while starring at catcher, second base and the outfield for 20 seasons with the Astros, shared his thoughts on the weekend after his first night in Cooperstown.
"I've used all the adjectives already since I got the call," said Biggio with a smile. "It's just overwhelming and exciting. And I'm excited for my family and the organization and the fan base in Houston and all of baseball."
As for his induction speech, Biggio said it has been finished and hopefully he can deliver it how he wants to deliver it.
"You are never going to know until you get out there and you get up there and you start letting it happen," Biggio said. "You can probably ask anybody that signs these bats and they'd much rather stand in a batter's box and face Nolan Ryan or if you're a pitcher face Hank Aaron than to get up there and have to do that but it's part of the process and I'll do the best job that I can."
When asked what it will be like to join a Hall of Fame that includes the likes of Babe Ruth, Jackie Robinson, Ted Williams, Willie Mays and Tom Seaver, Biggio demurred before saying, "I don't think I'll ever look at myself like that, to be honest with you, but we're going to part of the same building and that's pretty amazing."
Someone who experienced only a year ago what Biggio is now going through is longtime Cubs and Braves pitcher Greg Maddux, who paused on Thursday to compare this year to last.
"This is nice because it's just the family this year, so you're not worrying about 50 other people and trying to make sure everybody is having a good time. I'm looking forward to it," Maddux said. "I'm just looking forward to enjoying the event more. Now you can be just like Joe Fan and watch it and appreciate it."
Last year, Maddux was inducted along with former Braves teammate and fellow starter Tom Glavine. A third member of that incredible staff, Smoltz, will be in the spotlight on Sunday.
"I'm fired up for Smoltzie," Maddux said. "It's going to be fun seeing him go up there and get inducted. I'm happy for him. He is very well deserving."
Maddux said he last saw Smoltz last weekend in Lake Tahoe, Nev., where Smoltz was competing in a celebrity golf tournament. While Maddux admits he plays a lot of golf, sporting a 4 or 5 handicap, he spent a lot of the past year helping coach his son's high school baseball team, a squad that captured a state title and ended the season ranked second nationally. His son will continue playing at UNLV in the fall.
"I like the Leatherstocking Golf Course here. I love playing up here in this part of the country because the ground is soft and big trees and small greens," Maddux said. "And Smoltzie can play. I'm not as good as him but I like playing. It's a great game."
Gaylord Perry, winner of 314 big league games, has been a constant presence at induction ceremonies since he was inducted in 1991. This year, he and his wife, Deb, came to Cooperstown on Wednesday from their home in the mountains of North Carolina.
"It's always great to be here," said Perry while relaxing in the hotel's lobby. "You see the greatest ballplayers of all time and you get to enjoy a long weekend in Cooperstown, which is always outstanding. And all of the stories we share amongst each other got better every year, too. You threw the ball harder, you hit the ball further, and that's the way it should be.
"And…you can't find a better place to enjoy the weather. I was sitting (outside) earlier in a white rocking chair getting a little sun on the old bald head."
As for the trio of pitchers getting inducted this year, Perry thought for a minute first before saying: "I've watched them all when they were playing, and they were great. Randy came on strong and was just outstanding, Pedro was great, and Smoltzie was a starter and then a reliever and went back to starting, which is awesome."
Asked for memories of his own induction, Perry laughed and said, "We were the last ones to have it over by the Hall of Fame Library, so there wasn't too big a crowd. That place was full, but now they have the big field out there and fans can have a great time and enjoy a lot of people."
This year, 53 Hall of Famers are scheduled to be in Cooperstown to honor the Class of 2015 at the Induction Ceremony, to be held Sunday, July 26, at 1:30 p.m. at the Clark Sports Center – located one mile south of the Hall of Fame in Cooperstown. The Induction Ceremony will be shown live on MLB Network, as well as being shown via webcast at www.baseballhall.org.
Induction Weekend officially starts on Friday morning when, for the 14th straight year, Ozzie Smith, the Education Ambassador for the National Baseball Hall of Fame and Museum, will host PLAY Ball. On July 24, from 8 a.m. to 11 a.m., Smith will welcome fellow Hall of Famers Fergie Jenkins, Andre Dawson and Maddux as his guests as fans get a unique chance to experience on-field moments and stories with Hall of Famers.
PLAY Ball is a Museum fundraiser that supports the Hall of Fame's educational programs and internship scholarships. Participants in PLAY Ball each receive on-field round-robin interaction with the Hall of Famers, along with special mementos to commemorate their experience.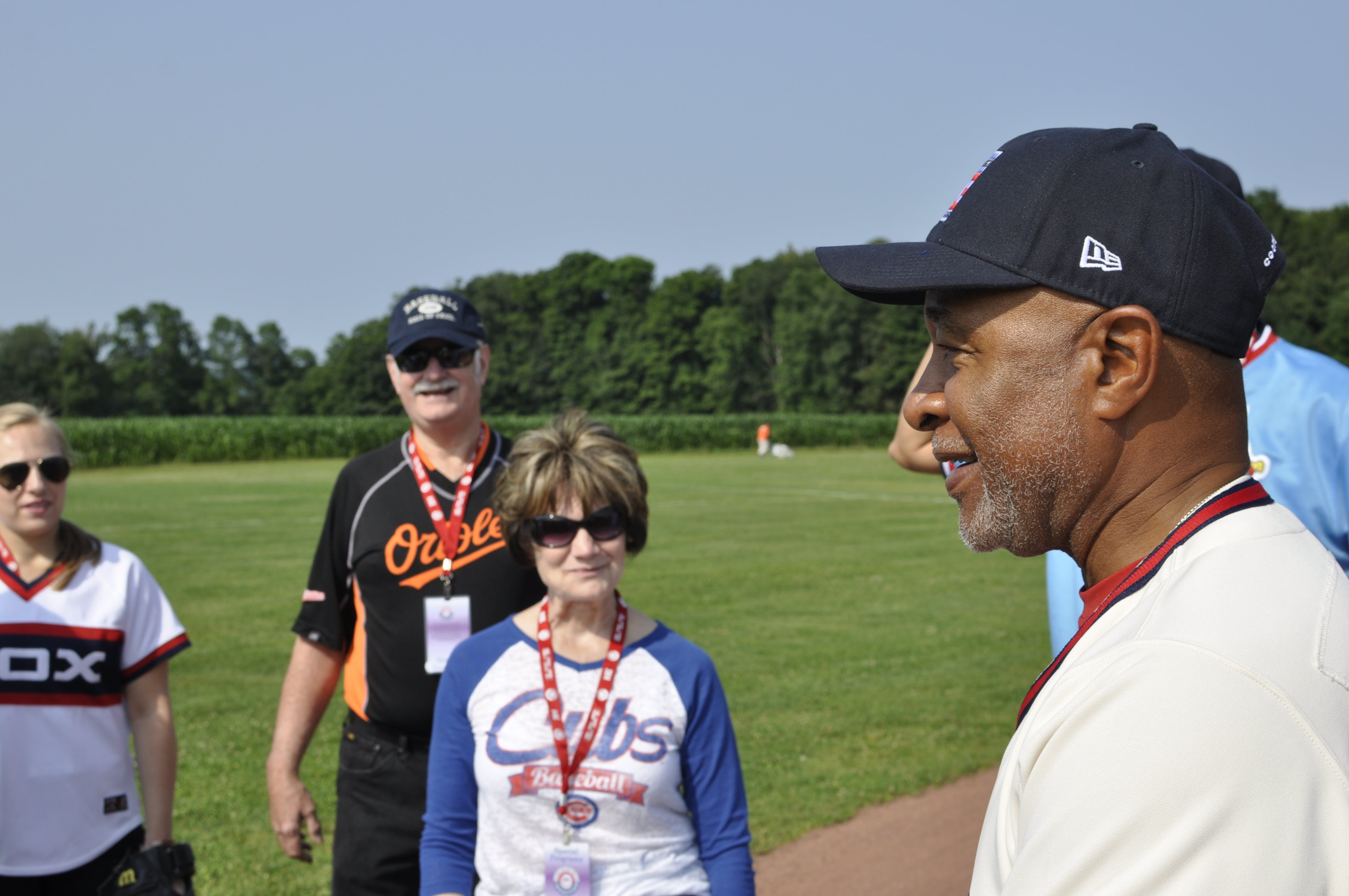 Time to PLAY Ball
The PLAY Ball fundraiser offers visitors a chance to practice baseball skills and interact with Hall of Fame players.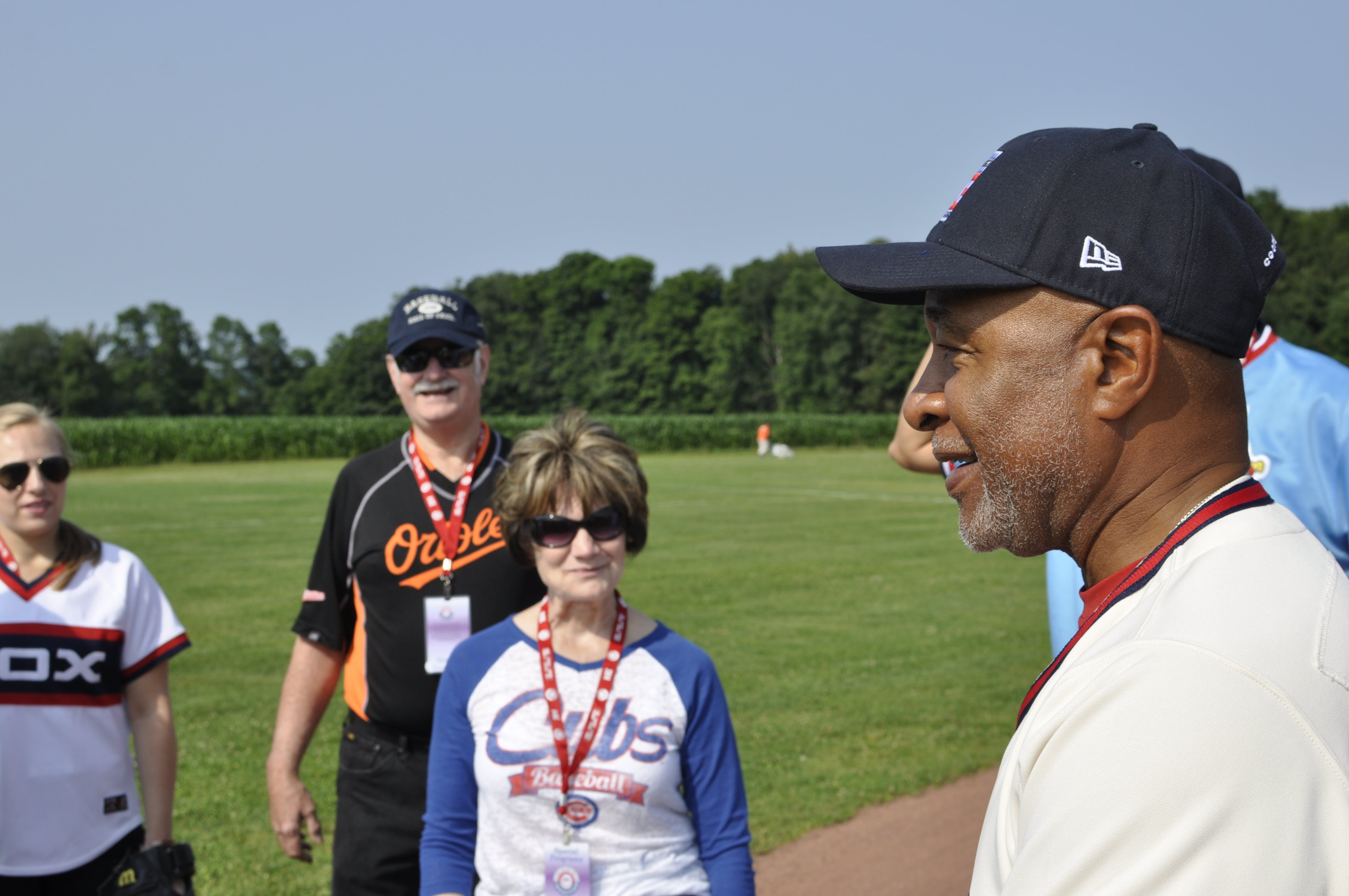 Time to PLAY Ball
The PLAY Ball fundraiser offers visitors a chance to practice baseball skills and interact with Hall of Fame players.
On Saturday, July 25, the Hall of Fame Awards Presentation will be held at 4:30 p.m. at Doubleday Field and will feature the presentation of the Ford C. Frick Award for broadcasters to Dick Enberg; and the presentation of the J.G. Taylor Spink Award for writers to Tom Gage.
The Awards Presentation will also feature a tribute to the legacy and contributions of former Reds, Cardinals and Senators outfielder Curt Flood, whose test of the reserve clause via the United States Supreme Court in 1970 laid the groundwork for the advent of free agency several years later. Tony Clark, the Executive Director of the Major League Baseball Players Association, will speak on behalf of Flood. The Museum will also recognize all the ballplayers who served in World War II, with United States Navy Secretary Ray Mabus speaking on behalf of all military branches. The Awards Presentation is free and open to the public.
Also on Saturday, the Hall of Fame Parade of Legends returns for a sixth year to provide fans with more thrills. Hall of Famers will ride down Main Street in trucks provided by Ford Motor Company en route to a private reception at the Museum during the 6 p.m. parade, with the staging for this year's Parade to take place at Doubleday Field, immediately following the Awards Presentation.
The Sunday, July 26 Induction Ceremony will take place on the grounds outside of the Clark Sports Center, which is located on lower Susquehanna Avenue, unless severe weather cancels the event. Follow all the events all weekend long with our #HOFWKND hashtag on Twitter, Facebook, Instagram and Google+.
---
Bill Francis is a Library Associate at the National Baseball Hall of Fame and Museum
Support the Hall of Fame