Amos Rusie
Amos Wilson Rusie
Inducted to the Hall of Fame in: 1977
Primary team: New York Giants
Primary position: Pitcher
"You can't hit 'em if you can't see 'em." said Hall of Famer John McGraw about hitting against Amos Rusie's pitching.
In his short but brilliant career, the "Hoosier Thunderbolt" helped revolutionize the game of baseball with his velocity. Perhaps the fastest pitcher of the 1890s, the right-handed Rusie won five National League strikeout titles with the New York Giants in the six seasons from 1890 to '95, both before and after baseball moved the pitching mound in 1893 from 50 feet to its present 60 feet, 6 inches. Rusie struck out 5.4 batters per nine innings in four seasons prior to the switch—and 4.0 per nine in his first five years afterward. But like many hard-throwers past and present, Rusie did not always have the firmest grasp of the strike zone. He led the NL in walks for five straight seasons from 1890 to '94, and his 289 free passes in '90 remain the single-season record. A Rusie fastball once struck Hall of Famer Hughie Jennings in the head and knocked him unconscious for four days.
In Rusie's finest season, 1894, he went 36-13 with a 2.78 ERA—in a year in which the NL average was 5.33—while leading the league in wins, ERA, starts (50) and shutouts (three) as well as both strikeouts (195) and walks (200). Behind the pitching of Rusie, who allowed only one earned run in 18 innings, the '94 Giants defeated the Baltimore Orioles four games to none in the first Temple Cup championship series, which pitted the NL's top team versus the runner-up.
During his time with the Giants, 1890 through '98, Rusie led all big league pitchers with 1,835 strikeouts and a 2.89 ERA, while ranking second in innings pitched (122 behind Kid Nichols) and third in wins (behind Nichols and Cy Young). That was in spite of sitting out all of the 1896 season in a bitter contract dispute with Giants owner Andrew Freedman. The two sides settled in time for Rusie to return to action in 1897, but the effects of arm trouble and personal problems rendered him unable to pitch during the 1899 and 1900 seasons. New York traded Rusie to the Reds for a 20-year-old Christy Mathewson in December 1900, exchanging one of baseball's most dominant pitchers of the 1890s for one of its best of the early 20th century. Rusie finished with an 8.59 ERA in 22 innings for the 1901 Reds and then called it quits.
"The Giants without Rusie would be like Hamlet without the Melancholy Dane. "
O.P. Caylor, NY Herald
Shop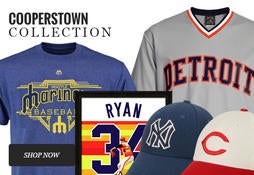 Represent the all-time greats and know your purchase plays a part in preserving baseball history.
Join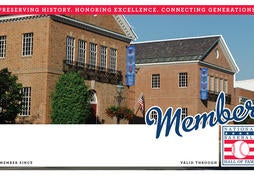 As the keepers of the Game's history, the Hall of Fame helps you relive your memories and celebrate baseball history.
Career stats
ESSENTIAL STATS
Year Inducted: 1977
Primary Team: New York Giants
Position Played: Pitcher
Bats: Right
Throws: Right
Birth place: Mooresville, Indiana
Birth year: 1871
Died: 1942, Seattle, Washington
Played for:
Indianapolis Hoosiers (1889)
New York Giants (1890-1895)
New York Giants (1897-1898)
Cincinnati Reds (1901)
CAREER AT A GLANCE