Cal Ripken, Jr.
Calvin Edwin Ripken Jr.
Inducted to the Hall of Fame in: 2007
Primary team: Baltimore Orioles AL
Primary position: Shortstop
Longtime manager Joe Torre said, "Cal is a bridge, maybe the last bridge, back to the way the game was played. Hitting home runs and all that other good stuff is not enough. It's how you handle yourself in all the good times and bad times that matters. That's what Cal showed us. Being a star is not enough. He showed us how to be more."
Cal Ripken Jr. was a throwback. He played hard, he played to win, and he played in every game. On May 30, 1982, Ripken began "the streak"— the longest stretch of consecutive games played by anyone in baseball history (2,632), and in the process earned the moniker "Iron Man." Fellow Hall of Fame shortstop Ozzie Smith explained "It is extreme-ly impressive that Cal was able to do something like this while playing shortstop. You have to have size and strength, which he obviously has, you have to have skill and you have to have some luck. I have always thought that shortstops were the best athletes on the field and this just reconfirms that."
A 19-time All-Star and two-time American League Most Valuable Player, Cal Ripken redefined the shortstop position. Traditionally viewed as a position from which you wouldn't expect a lot of offense, Ripken ushered in an era of superstar shortstops that could not only handle the rigors of the position defensively, but regularly hit 20-30 home runs and bat .300.
One of these shortstops, Alex Rodriguez, said of his boy-hood idol, "He was a pioneer in many ways. The most under-rated thing about him was his defense. The year he went out and made three errors and led the league in double plays, that was awesome. He'll be remembered more for his home runs, RBI and games played, but his defense was something."
It was ultimately Cal Ripken and "the streak" that brought fans back from the dark times of the 1994 baseball strike when on Sept. 6, 1995, baseball's "Iron Man" passed Lou Gehrig's mark of 2,130 consecutive games played. Curt Schilling said, "No one's ever had that aura like he had."
"There are only a couple of people in the game who could do that: step out of the box, thank the fans for their ovation, get back in there, regain concentration for a split second and then hit a 93 mph fastball over the left-center field fence. It was unbelievable. "
Tony Gwynn
Shop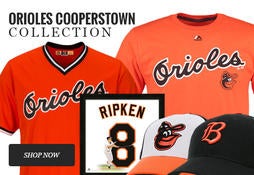 Represent the all-time greats and know your purchase plays a part in preserving baseball history.
Join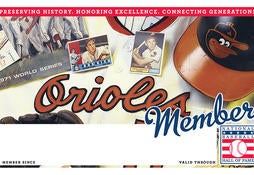 Relive your cherished baseball memories and favorite moments from your team with your personalized membership card.
Career stats
ESSENTIAL STATS
Year Inducted: 2007
Primary Team: Baltimore Orioles AL
Position Played: Shortstop
Bats: Right
Throws: Right
Birth place: Havre De Grace, Maryland
Birth year: 1960
Played for:
Baltimore Orioles AL (1981-2001)
CAREER AT A GLANCE